Deerfield x Frontier Medicines
Studying investment decisions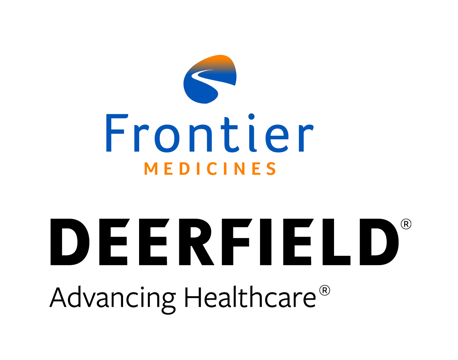 Deerfield is one of the best investment businesses in the world. Recently they invested in a company out of UC Berkeley called Frontier Medicines. Doing case studies on companies are very useful; however, reverse engineering investment decisions is important as well. Deerfield invested and co-led Frontier's $67M round for a set of reasons ranging from the market opportunity to the founding team. Frontier is led by Chris Varma who drove a lot of value while CEO of Blueprint Medicines with the support of two great inventors, Daniel Nomura and Roberto Zoncu, helping form the technical basis for the company:

Left to right: Varma, Nomura, and Zoncu
Key reasons Deerfield invested in Frontier:
Founder-market fit where Varma had built a similar company, Blueprint, into a multi-billion business. Blueprint did extraordinarily well translating technologies and successfully bringing them through the clinic to go after genetically-defined cancers.

Market opportunity of the undruggable genome that measures in the $10Bs and possibly well over $100B. Well over 2/3s of all human proteins are currently undrugged with many of them being key drivers in diseases across cancer, autoimmunity, and beyond.

Unique technology stack from the Nomura Lab to identify new binding pockets (i.e. hotspots) against currently undrugged targets. By scaling up chemical biology tools, Frontier is building a technical moat around its database of hotspots.

Current clinical success with KRAS, the leading undrugged protein, with both Amgen and Mirati reporting positive data. This recent traction is opening up financing for companies in the field, increasing interest from biopharma, and showing undruggable targets are becoming tractable - if one of the hardest targets, KRAS, is being drugged, the other targets must be attainable.
Frontier was founded in 2018 by Chris Varma, who was an EIR at MPM Capital, and Zoncu and Nomura. The underlying thesis was very similar to Blueprint Medicines. Where Blueprint focused on identifying selective kinase inhibitors, Frontier focuses screening for selective drugs against currently undrugged targets. This is why the founder-market fit was so strong. Varma brought the business track record, Nomura brought the chemoproteomic technologies, and Zoncu brought the expertise in lysosomes.
The market opportunity for Frontier was to pursue the undruggable genome. Related to the company's overarching mission, Nomura states: "I think 50–100 years from now, there will be no protein that is undruggable. Everything will be druggable."
Varma echoes a similar sentiment:
"Over the last 100-plus years of pharmaceutical drug development, we've only been able to access about 10% of human protein targets. We haven't been able to access the other 90% where a lot of very important disease-causing proteins lie. The question is, why haven't we been able to access them?
You've got the corners of a coat hanger, where you can imagine sticking something into. That's basically what we do—take drugs and stick them into these corners of protein molecules. The other 90% would be like a string. If you hold a string up, it's perfectly straight and flat, with no corner to stick anything into.
Those pockets are temporary, but they better represent what happens in nature with these proteins, which are very dynamic. If we can figure out where these temporary pockets are, we can then drug them."
Targeting 10% to 20% of the available targets has had a tremendous impact on human health and ~80% of targets are still undrugged. New technologies and collective improvements in drug development are making the latter more accessible. Frontier relies on a few enablers to build a business centered around the undruggable genome:
Improved high-throughput screening methods

Cheaper computational power to simulate molecular targets

Improved cryo-EM/NMR methods and crystal structure data

More diverse chemical libraries
However, pursuing undrugged proteins has unique challenges:
Non-enzymes, such as scaffolding, regulatory, or structural proteins, and their activities are often dependent on protein-protein interactions

Difficult to predict how drug binding to non-enzymes might affect changes in protein function

Defining druggability especially linking a target with a disease (i.e. MoA)

Identifying cavities or pockets on the structure and calculating their respective physicochemical and geometric properties. Then assessing how these properties fit a training set of known druggable targets, typically using machine learning algorithms.
Exciting targets (image below of target families) in the field are KRAS (found in ~20% of cancers) and c-MYC (~70%). Other interesting ones are PP2A, SHP2, HDM2/p53, MDM2/p53, Nrf2, NFE2L2, KLA4, E2F1, and CBP/β-catenin. Druggability is a multidimensional problem that makes not only target identification difficult but lead development as well. Screening for new chemical matter that not only binds a target with a high enough affinity but then meets certain thresholds around bioavailability, durability, pharmacokinetics/pharmacodynamics (PK/PD), cell permeability, toxicology, and serum stability makes the undruggable genome an incredibly hard problem. Given the market opportunity likely measured in the $10Bs, Frontier brought a unique set of technologies to solve this problem.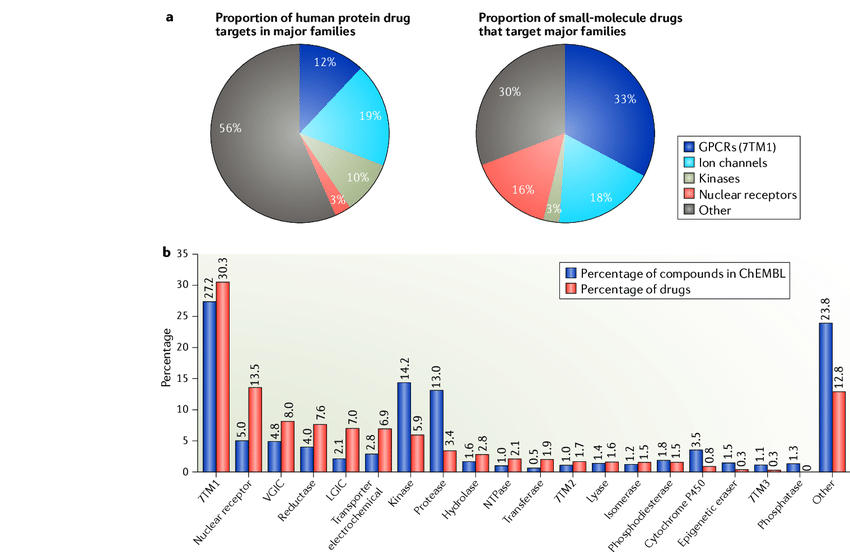 Source: Nature
According to Nomura, Frontier's "platform currently includes a database of hotspots that cover a majority of human proteins, including those that were previously considered 'undruggable;' an expanding library of diverse, covalent compounds being driven by machine learning; and a novel approach to protein degradation. This platform enables us to go after almost any protein target of interest for therapeutic intervention."
With this toolkit, a company like Frontier can "identify over 100,000 druggable hotspots across over 20,000 protein targets. This is now a potential way in to be able to at least develop a small-molecule ligand against any protein target within the proteome. And whether that's functional or not is a different story."
From a technological perspective, Frontier is an interesting investment given the current state of medicinal chemistry, computation, and profiling tools. The company is centered around a chemical biology method called activity-based protein profiling (ABPP), which relies on chemical probes to covalently label classes of enzymes or certain amino acid side chains with mass spectrometry used to pinpoint exactly where the probe attached itself. Essentially ABPP allows Frontier to map out all the various cracks and crevices across ~20,000 protein targets to discover new binding pockets (i.e. hotspots) for drugs. What makes Frontier's set of technologies (image below) unique is the scale of targets they can test along and their increasingly large database of hotspots with the ability to generate/screen millions of small molecules and couple the tests with phenotypic assays.
The technical thesis for Deerfield was that Frontier has a set of technologies to identify new binding pockets on high-value, undrugged proteins and discover new drugs against them. Frontier's chemoproteomic platform solves a core problem for the undruggable genome - expanding the potential druggability of targets by finding new pockets that a molecule can bind.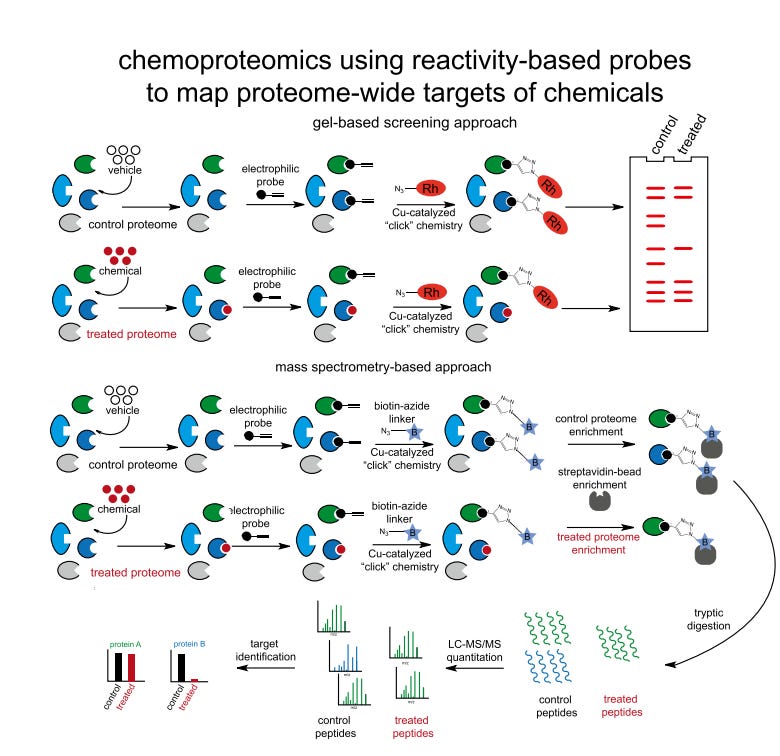 Source: Nature
The most important development around the undruggable genome recently has been the early success for Amgen's and Mirati Therapeutics' KRAS programs.
Pasi Jänne's take, the Director of The Lowe Center for Thoracic Oncology at the Dana Farber Cancer Institute and an investigator for Mirati's trial:
"There are currently no effective targeted therapies for patients with KRAS-mutant cancers. KRAS mutations are the most common oncogenic alteration in all of human cancers, and as such, finding a therapeutic approach for this subset of cancers would have tremendous clinical impact for cancer patients."
At the 2019 American Society for Clinical Oncology (ASCO) annual meeting, Amgen took the lead to show that KRAS is a druggable target with its Phase I dose-escalation study of AMG 510, an inhibitor of KRAS G12C (a particular variant that is tractable mainly thanks to the Shokat Lab at UCSF; found in about 40% of all KRAS-driven NSCLC cases and 10% for colorectal cancer). The AMG 510 program remarkably achieved a little over 50% response rate in non-small cell lung cancer (NSCLC) patients expressing the KRAS G12C mutation with a 10% complete response (N=13). A drug for KRAS alone is probably worth a few billions dollars of revenue per year.
For the Deerfield investment thesis, Amgen's success bolds well for Frontier - AMG 510 acts in a similar way to the molecules Frontier screens for with its ABPP technology.
Here's Amgen's R&D chief, David Reese:
Amgen's molecules work "by exploiting a previously hidden groove on the protein surface [and] lock[ing] it into an inactive state."
The other company getting major traction for KRAS is Mirati. Their KRAS program, MRTX849, had similar success in NSCLC (N=6) with purported advantages versus AMG 510 around durability.
Amgen and Mirati spent many years to get here to get traction against one of the 4 horsemen of the undruggable genome. With this early success, more companies are jumped into the fray. Merck entered with their own set of deals. Deerfield actually invested in another company going after the undruggable genome called Revolution Medicines (announced about a month after the Frontier investment) who are pursuing SHP2 as well as KRAS G12C.
For Frontier, the company's ability to identify unique binding sites for active states of target and discover new chemical matter is differentiator against companies like Amgen and Mirati. Given that Amgen's program is seeing success and the large market opportunity of the undruggable genome, Frontier is positioned well to see similar success. The market and competition provides the company the shot to create a unique business model
Here's MPM's Luke Evnin take on Frontier's ability to create a model that is less dilutive to existing shareholders and hopefully more scalable:
"We think we can find our way to one or two 'win-win' kinds of deals relatively early."
MPM funded key experiments before Deerfield led the round to license out the technology and build out an IP portfolio
Deerfield does not give too many quotes to the media. However, with a great set of founders with technology to address a large opportunity, Frontier is very compelling. Recent developments in the clinic for KRAS has created the right timing for a business like Frontier to go after more targets and a wider set of disease and potentially create a more efficient business model. Often monitoring clinical results or product launches can influence investment decisions in early-stage companies. Anyone can find value, timing is very difficult.
Just like Amgen's and Mirati's KRAS program, Frontier focuses on undrugged targets. What makes Frontier differentiated for Deerfield is the ABPP technology coupled with a founder with experience building out Blueprint, which took a similar approach for kinases.
Deerfield had a prepared mind on the opportunity of the undruggable genome likely pairing diligence with Revolution. However, the investment is somewhat contrarian where small molecules are thought to be useful against undrugged targets due to their poor track records and new therapeutic modalities are needed.
Michael Gilman's (former Biogen executive and current CEO of Arrakis Therapeutics) take:
"We know there's a lot of value in new biology, right, outside this fairly circumscribed area where small molecules work. And in order to access that new biology, we've had to go to new therapeutic modalities. And those therapeutic modalities are not completely well understood. I mean, they're still pretty risky. They're complicated to work with.
So first of all, we understand how to make small molecule drugs, right? We know how to develop them. They're generally predictable, and we know how to flush out their unpredictable behaviors. We know how to manufacture them, we know how to formulate them, we know how to, like, get them to your local pharmacy. I mean, it's a very, very well-oiled machine, medicinal chemistry.
And so that's why I think there is a strong incentive to figure out how to move small molecules into these new areas of biology that until recently were not thought to be accessible with small-molecule chemistry."
Deerfield's thesis was that instead of taking modality risk to go after new and hard targets, using technology from the Nomura Lab can make small molecules (lower clinical risk) usable for undrugged targets. With compelling science, bringing on Varma makes sure translation occurs - there's science then there's drug development; both are very different.
Time will tell whether Deerfield's investment in Frontier pays off. With a great set of founders and a large opportunity being validated by others, Frontier has a good shot to bring new medicines to patients that can transform lives. Alongside a large set of well-capitalized and interesting companies from Vividion to Abide Therapeutics, Deerfield's conviction rests upon the database of hotspots Frontier grows and the ability of the team to translate science into products.