Axial - PatientPing
Surveying great inventors and businesses

PatientPing is a healthcare coordination network. The company connects providers with real-time clinical information. Founded by Jay Desai, who previously worked at CMS and whose uncle is a physician, set out to build a community of providers. Jay's background and collective experience made him particularly prepared to build PatientPing - at CMS, he worked at the Innovation Center where he was involved in designing Accountable Care Organizations (ACO) and other fee-for-value paradigms when ObamaCare was being rolled out. Even at business school, Wharton, he focused on healthcare management in a backdrop where finance usually dominates. At CMS, groups were asking for a system with real-time notifications of a patient's location especially if they were going to be incentivized to reduce unnecessary tests and procedures. With the right background at the right time with customers asking for something they want, Jay set off to build it.
In the US, the healthcare system is often disjointed and unconnected. By focusing on one feature, pings, PatientPing has been able to get a beachhead for the broader opportunity to make healthcare interoperable between providers. The core product sends pings to healthcare providers on a patient's location - it's that simple. The hard part is striking up the various partnerships (i.e. hospitals, medical homes, ambulances, emergency departments, clinics, home health services) and like most software products, getting it to work at scale. These collection of pings make up stories of a patient and could potentially be used to forecast their future health outcomes.
For PatientPing and other healthcare companies, the key metric for their businesses is reduced healthcare costs at the same or hopefully improved patient outcomes. Really healthcare software is best when optimizing for efficiencies and leaving cures to medicines and management tools because the hospital is a cost center - it costs a lot of money to maintain a 24/7 center that is always prepared to save lives: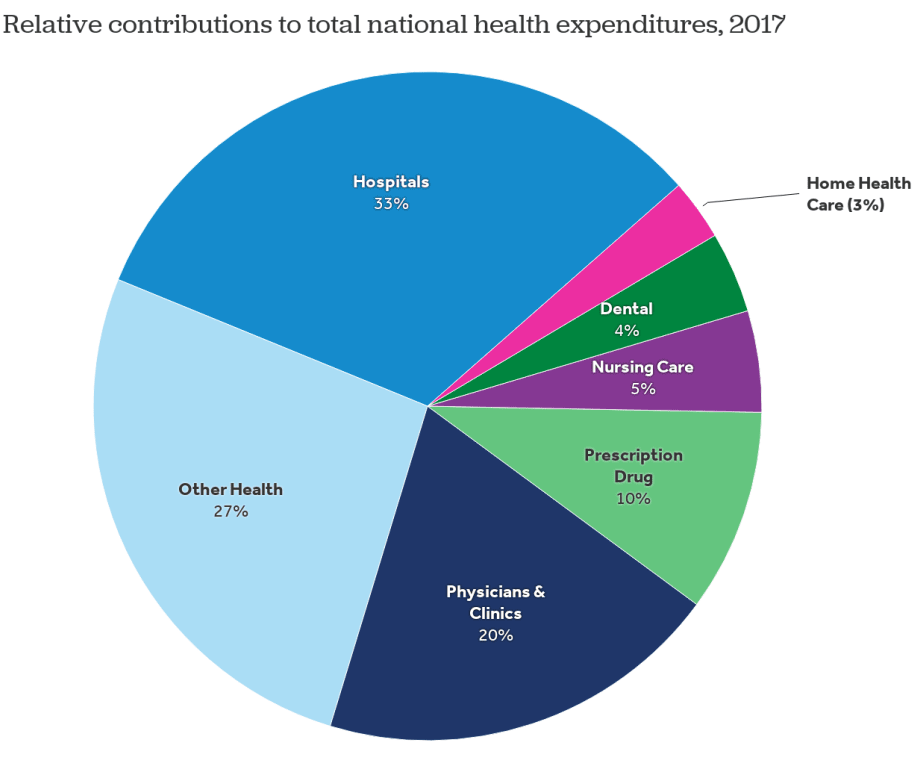 Source: Kaiser
Ultimately, PatientPing is a pioneer in building software to drive the transition toward fee-for-value within the United States. By focusing on healthcare coordination, the company has simply made information that was already available, more accessible and made the clinician and patient experience more seamless. Just as important it is to focus on patients, focusing on payors is probably more important for a business. This product experience has driven PatientPing's growth to thousands of locations creating a massive care coordination network: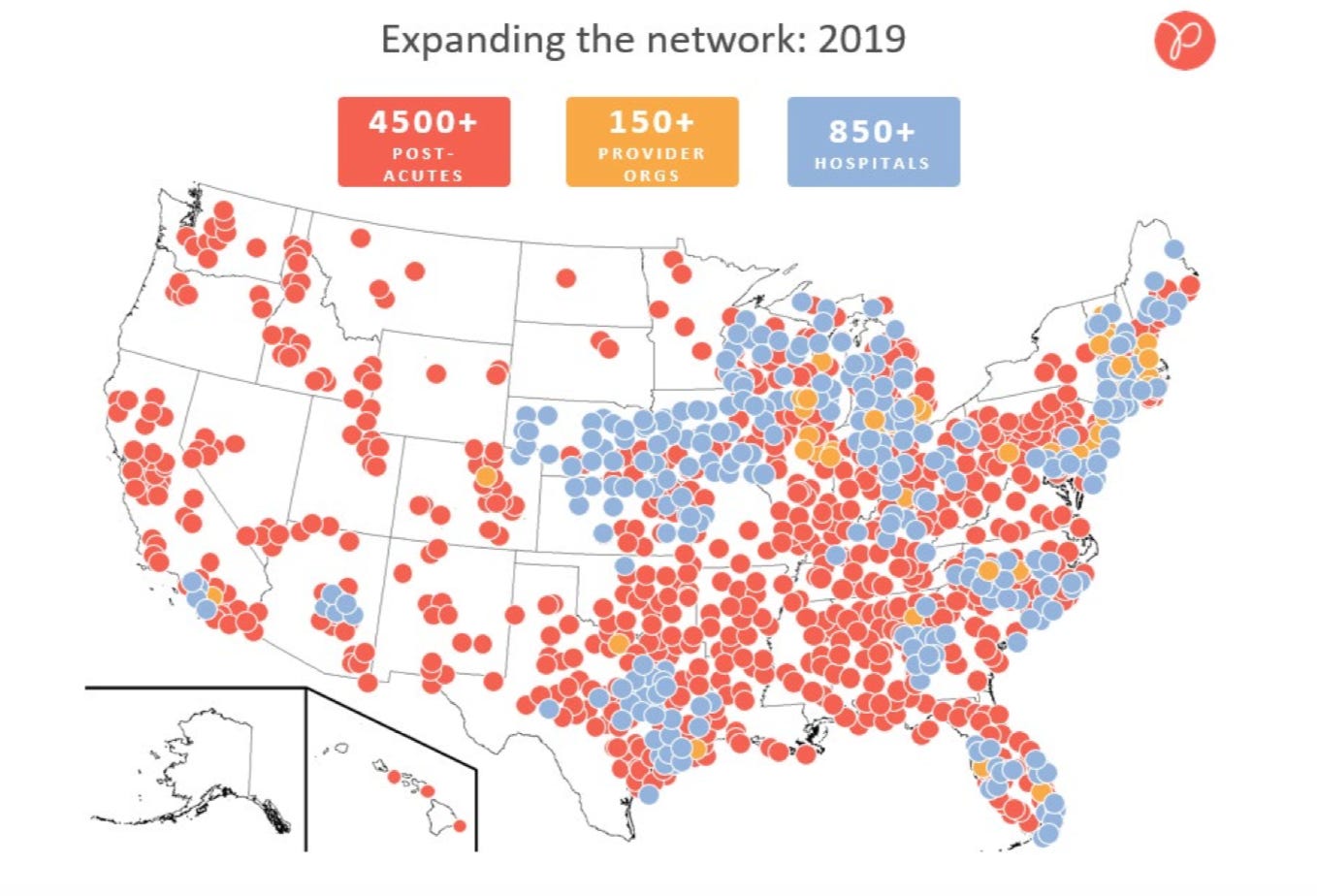 Source: PatientPing (public source)
Key findings
PatientPing's technological backend is successful despite the resistance to integrations mainly due to the ability to increase referral rates. This financial incentive has allowed the simple ping to make healthcare more interoperable and reduce duplicative systems.

With the tectonic shift (i.e. once in a century) in healthcare toward fee-for-value, new business models in software and other fields will emerge with a likely, dramatic change in where value accrues.

With this backdrop, PatientPing has had tremendous success on boarding thousands of new partners. The winning characteristics that made PatientPing successful in this transitory period in our healthcare system are: increasing access to patient data, seamless communication between groups, and referrals (i.e. enabling network effects).
Technology
Under the hood of PatientPing are some pretty powerful integration tools. Across hundreds of healthcare systems, post-acute care clinics, and other organizations, not only connecting legacy tools but providing customized notifications and analysis for each customer is a monumental task to take on. As PatientPing has been able to bring on new partners on board, the company builds a moat reliant on network effects: each new partner makes the patient and clinician experience more seamless.
The core problems PatientPing solves is connecting various legacy software systems found within healthcare (i.e. Epic's moat actively resisting integrations) enabling broader interoperability:
Limited real-time data on a patient and the care they receive

Non-interoperable clinical workflows

Legacy IT infrastructure

No incentives to make patient hand-offs easy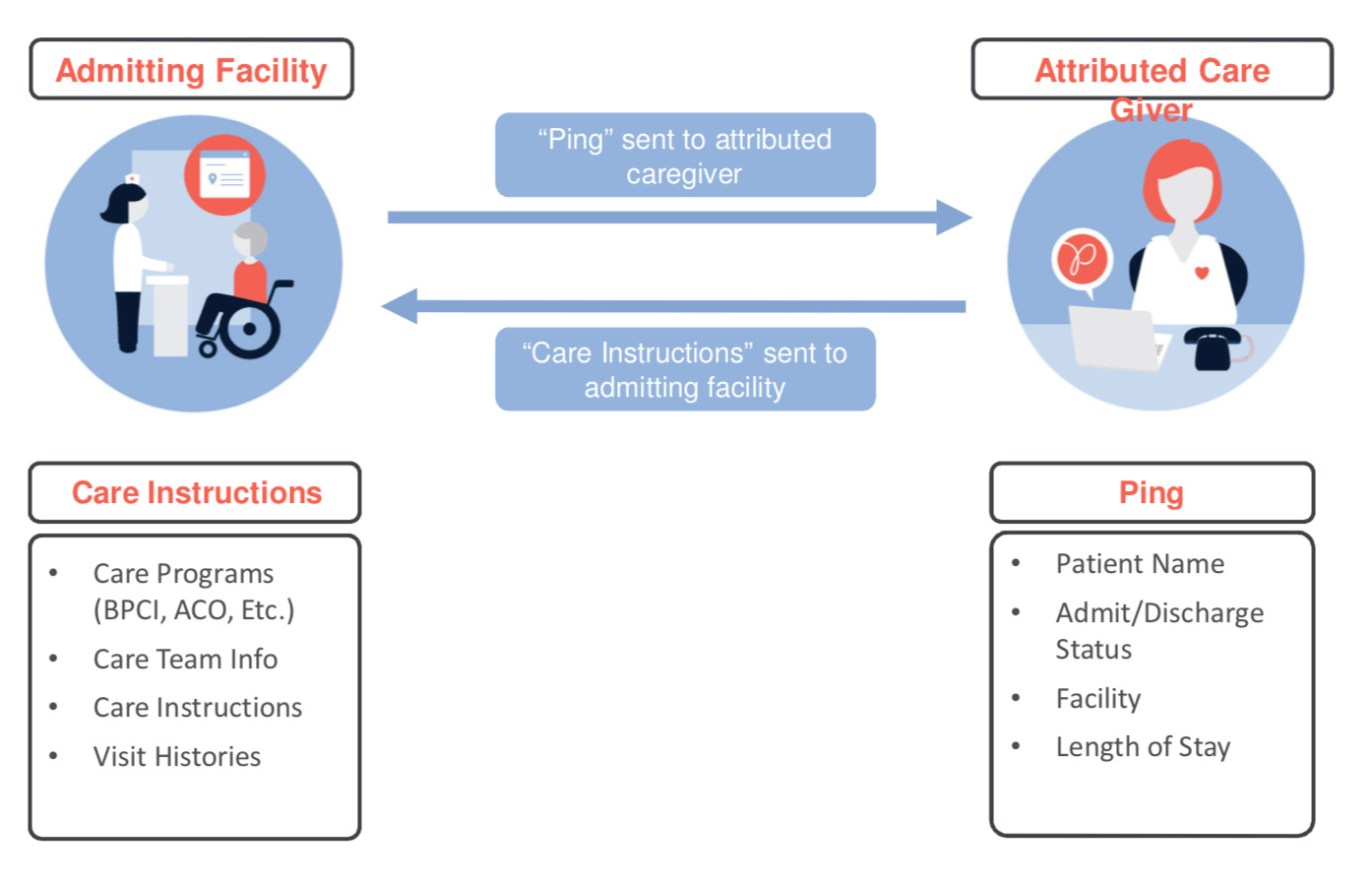 Source: PatientPing (public source)
To address these problems, PatientPing has built out (image below):
A system for real-time care transition notifications (i.e. pings) and patient care instructions

A history of visits, patient use history, and information on care programs and automating the task of data entry

Integrations with existing EHR systems (a difficult task given the pushback from EHR providers) slowing for inter-institutional access for patient data

Stratify patients important mainly to see if they are part of an ACO or not

Automatically notify care team(s) on changes in a patients status
The information that powers PatientPing was already there beforehand; similar to other tools like Zillow and Waze, PatientPing's product makes patient data more accessible to providers. Across various practices and institutions, the core product has used the simple ping to unlock previously closed-off data. Ultimately, this allows stronger referral relationships between providers creating the network effect, prevents new admissions, and allows continuous improvement in care.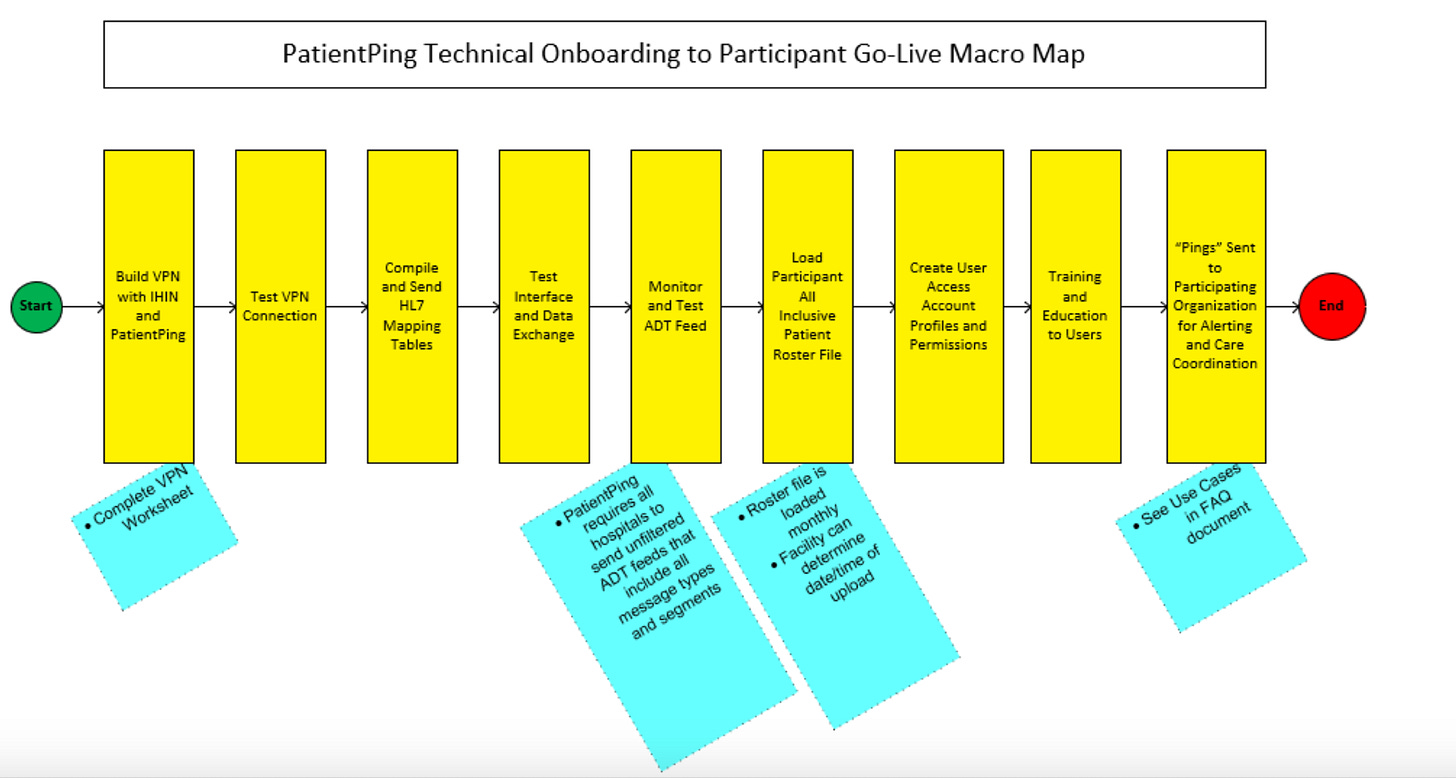 Source: PatientPing (public source)
The most effective way to think through the value of PatientPing's product is through an example - let's say John at St. Rita's Medical Center through Mercy Health (ACO):
St. Rita's Medical Center receives John where PatientPing sends a notification to Mercy Health. Mercy can pull John's history of visits, outcomes, and begin to understand what the problem could be

John receives care and Mercy receives John's care program from the outpatient care manager at St. Ritas's

Mercy coordinates to send John to a preferred skilled nursing facility (SNF)

Once the SNF receives John, PatientPing notifies Mercy on the arrival and the SNF can pull up John's history of care so far. Previously, providers had little-to-no ability to monitor a patient once they were sent to an SNF or a similar setting.

Once John is ready to be discharged, PatientPing sends the finalized standard care package to Mercy

Through PatientPing, Mercy sets the communication protocols for the various providers and ensure proper compliance for John's treatment program
This is probably the simplest example where nothing goes wrong for the patient, but these handoffs and history tracking enables various new combinations of care coordination that was not really accessible to providers. For PatientPing, the hard part to make this process work especially at scale is ensuring the SNF and St. Rita's inputs patient data onto the program with 24 hours. Most of the errors to date are mostly derived from data input rather than core product.
Technically (image below), this works where Mercy sends PatientPing a list of its patients probably with a spreadsheet. With the list of patients, the core product connects to Mercy's EHR to create an admission discharge transfer (ADT) to starting send data securely through an HL7 format. PatientPing increasingly is connected to many providers' EHRs so it creates a new network connecting Mercy to other institutions. So PatientPing's product continuously monitors the ADT feed and can coordinate a patient across multiple healthcare networks. The hart part here is ensuring that PatientPing's product doesn't disrupt current workflows - an institution like Mercy would have no interest if they had to rewire their entire backend. This bespoke process is the largest barrier against PatientPing's growth but creates a strong moat. Epic built out a similar business decades ago with the core thesis to resist integrations. Whereas, now PatientPing is fighting that thesis to promote integrations. PatientPing has done incredible work so far but each new partner requires on-time teams to make sure the product is implemented properly and multi-year trials some times.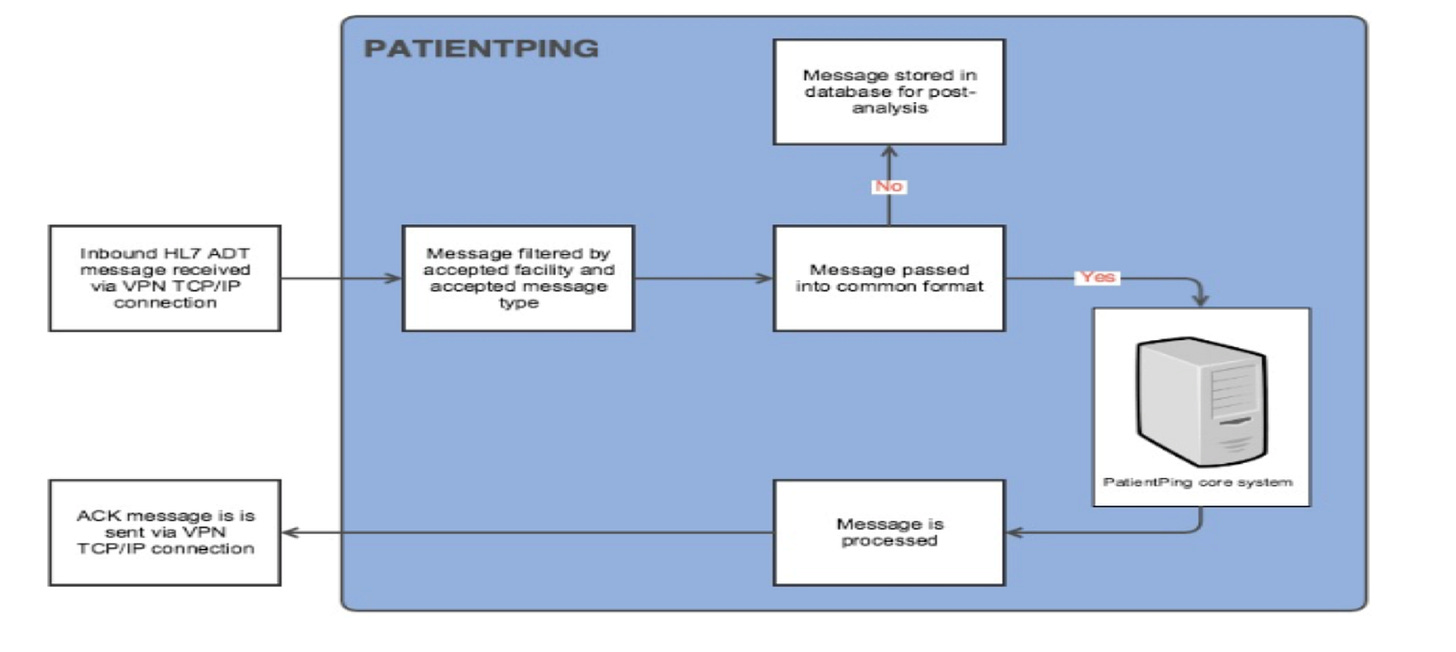 Source: PatientPing (public source)
Market
PatientPing's market opportunity has always been the waste in the fee-for-service regime in the US healthcare system. So far the results have been promising - PatientPing has been able to generate $100Ms in savings across its network (example with image below).
Tens of millions of patients in the US visit more than one physician often across unaffiliated practices. Getting care from a diverse set of providers is incredibly important to improve outcomes; however, leads to many of the perverse incentives were see in our healthcare - every practices maximizes their reimbursed payment with little awareness about providers upstream/downstream and overall cost. Through an episode, a patient can visit a primary care physician, ambulatory facility, hospital, rehab facility, various specialists, all often siloed off from one another. This leads to $100Bs of waste in failure in either healthcare delivery or coordination and mis-diagnosis and incorrect treatments. By slowly achieving interoperability and hopefully a durable incentive structure, PatientPing can grow a large business by reducing this overall waste.

Source: PatientPing (public source)
The long-term opportunity for PatientPing, is the overall shift to fee-for-value. The US healthcare system has a century-long history with the bureaucracy to show for it. New government incentives mainly around payments and new products like PatientPing will help drive this shift toward value-based care. Since the implementation of ObamaCare, around half of Medicare is paid through alternate payment models (i.e. ACOs) with the majority of healthcare systems piloting or considering fee-for-value (image below). In 2014, 20% of Medicare payments were traditional fee-for-service, 60% were fee-for-service linked to an outcome, and the rest through fee-for-value models. By 2018, Medicare payments are now comprised of 50% fee-for-value and 40% fee-for-service linked to an outcome and the rest traditional fee-for-service. However, the larger opportunity is driving this transition for private plans.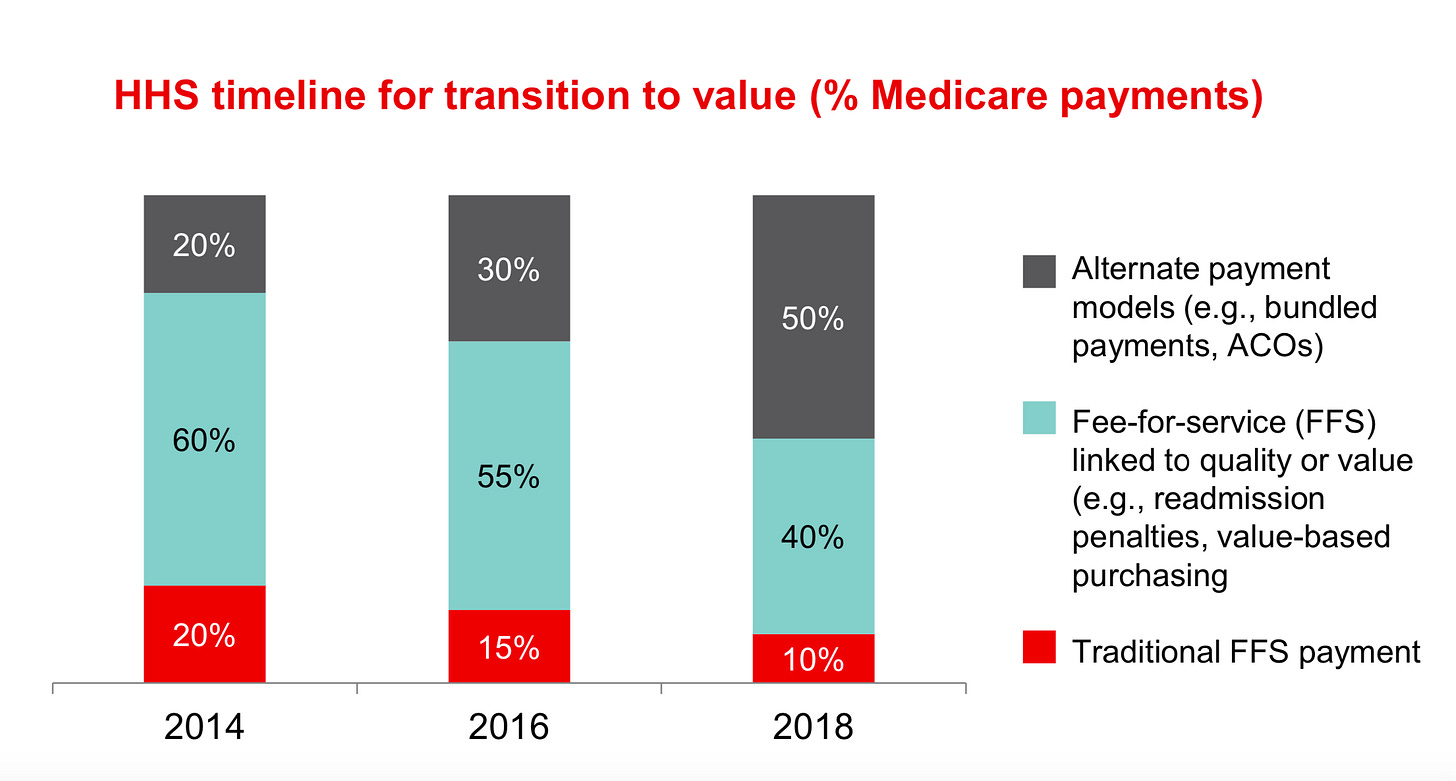 Source: Cardinal Health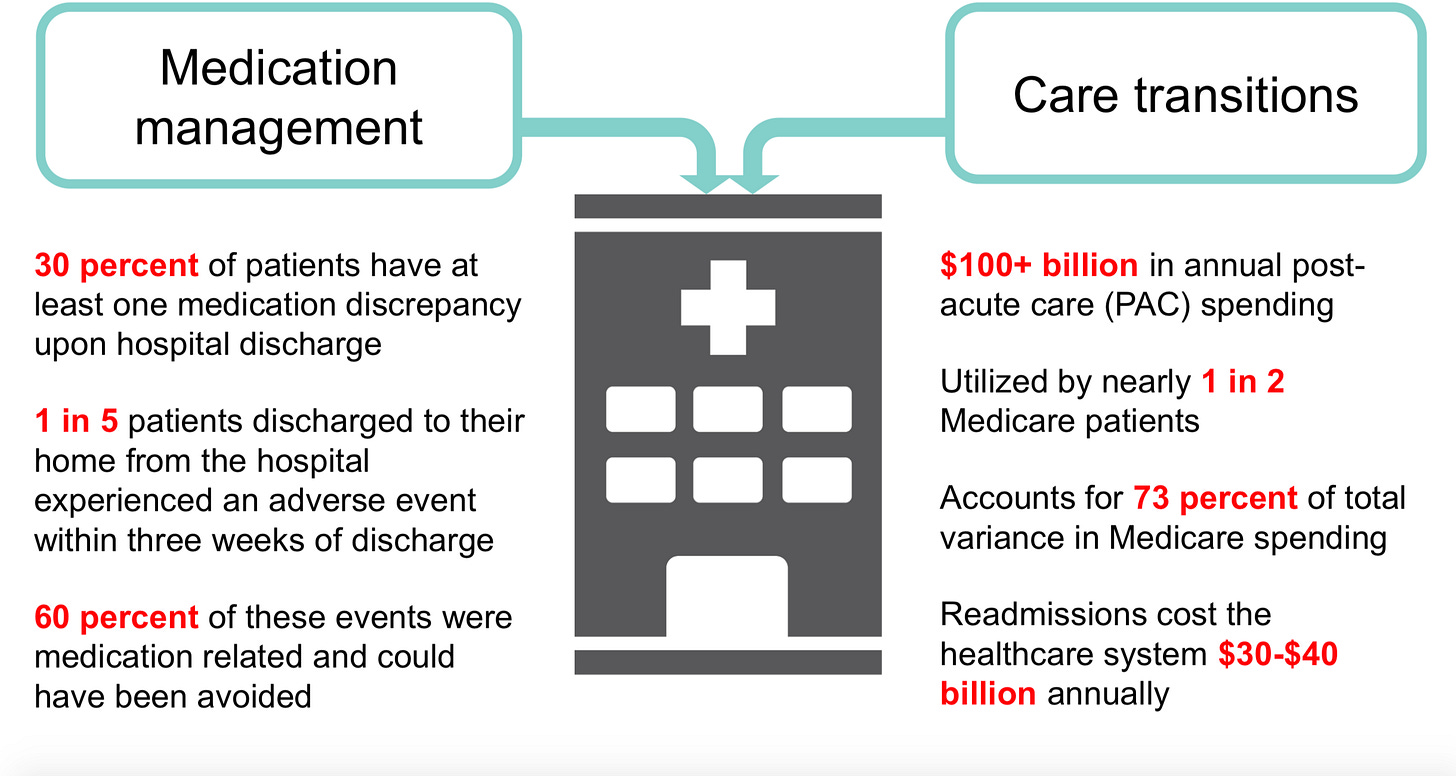 Source: Cardinal Health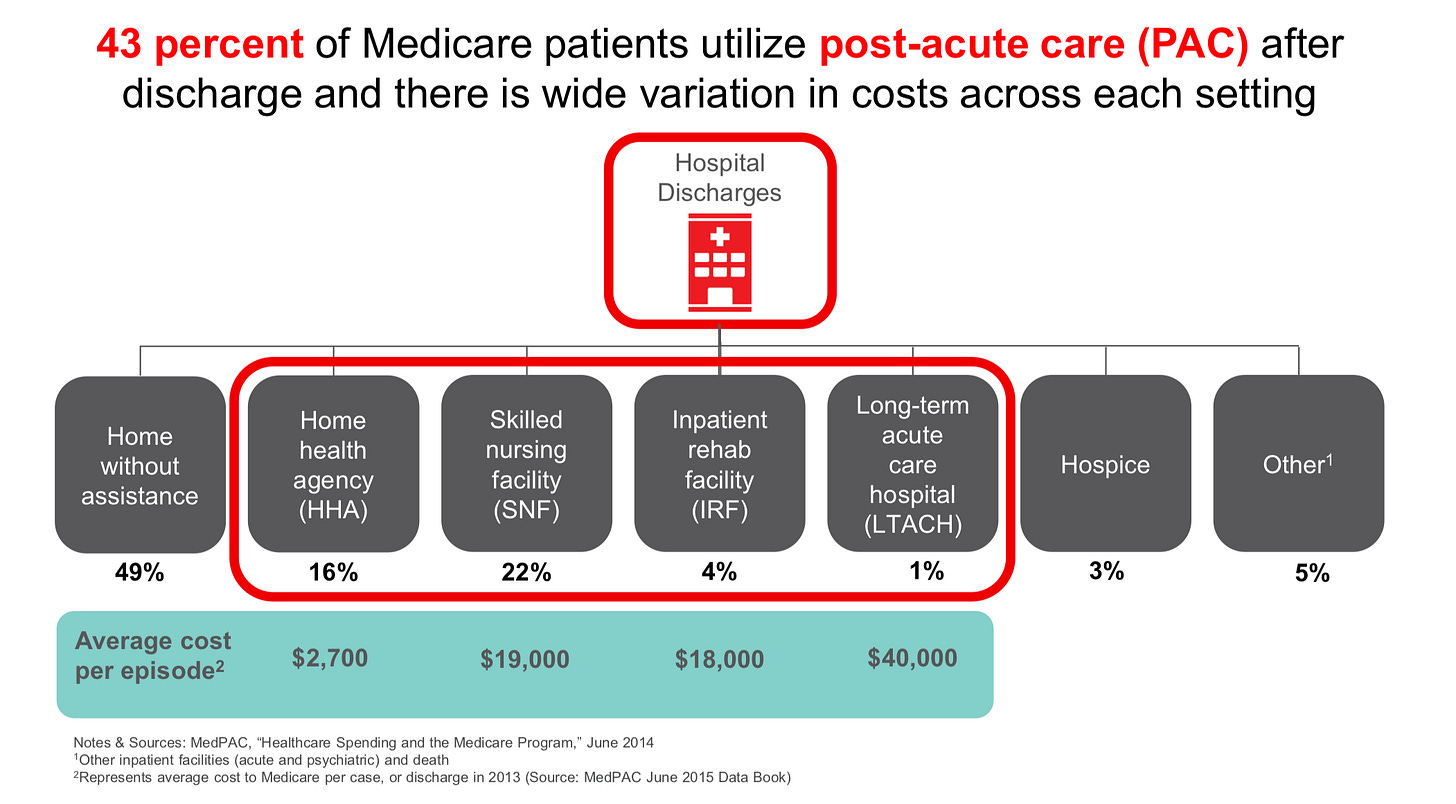 Source: Cardinal Health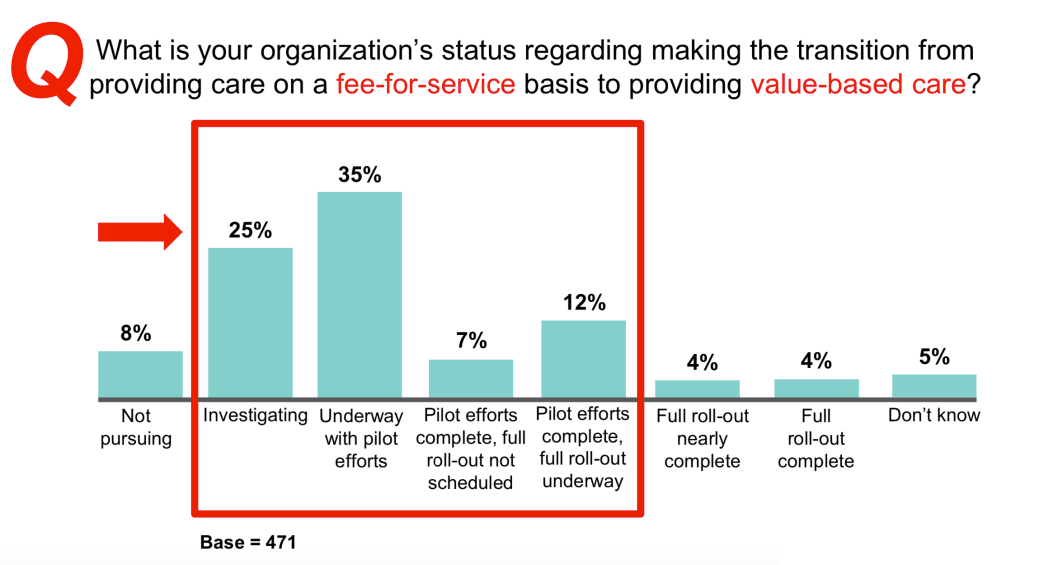 Source: Cardinal Health
With this backdrop, PatientPing has had tremendous success on boarding thousands of new partners. The winning characteristics that made PatientPing successful in this transitory period in our healthcare system are:
Increasing access to patient data - the Google Maps model

Seamless communication between groups - solving the hand-off problem

Referrals - enabling network effects for a healthcare product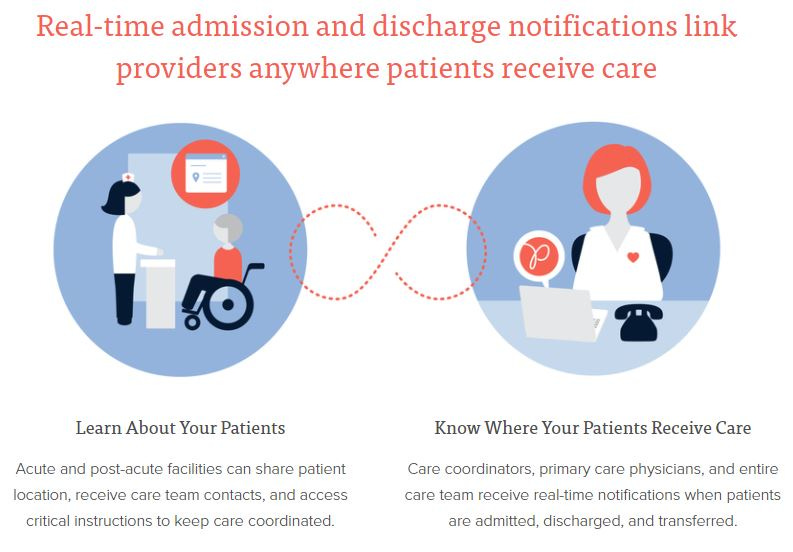 Source: PatientPing (public source)
Increasing access to patient data
Just as Google Maps aggregated GPS data and displayed the information in a user friendly way, PatientPing has aggregated patient location data and provided it to providers. This empowers providers to properly delivery care and physicians to provide comprehensive instructions, especially important for discharge, between hand-offs. This reduces potential adverse events for patients in a post-acute setting where ~$100B is lost during this time with readmission costs between $30B-$40B annually.
Seamless communication between groups
Coordinating care between primary providers, acute settings, and other groups is the core technical challenge PatientPing has faced. With bureaucratic push back against integrations, the ability for PatientPing to enter into this market has relied on a simple value proposition, pings, that are a powerful tool to make sure disparate providers work well together. Miscommunications, functional redundancies, and error drive the large costs found within healthcare. Through a simple ping, the company enables successful hand-offs found to likely be the major driver for waste.
Like a relay race, problems in healthcare often happen during the hand-off. Ensuring proper transitions say between acute care staff and an SNF is incredibly important to reduce errors. In the old system, planning teams would meet around error-ridden patient lists that were not regularly updated. With PatientPing, the ability to have hopefully daily-updated rosters of patients along with their histories, helps these teams make informed decisions are where to hand-off a patient or discharge. For PatientPing and their partners, this has led to a reduction in financial and medical variations.
The long-term opportunity for PatientPing and similar companies, is to create the infrastructure to provide care for an aging world one with chronic diseases like diabetes increasing in prevalence. The scary part is that fee-for-value may shift most care to the cheapest especially with more older individuals and higher use rates. Often, the most effective care, especially with regards to overall spend, is not the cheapest. Similar to the fee-for-service regime where each provider focuses on maximizing their own reimbursement without considering the bigger picture, the converse may come true for fee-for-value. Making sure providers are properly integrated across every setting is the massive opportunity for PatientPing to ensure fee-for-value leads to long-term positive outcomes for both patients and payors.
The exciting opportunity for broader interoperability, is the role of nurses to provide high-quality care outside the hospital (i.e. cost center). For a patient with kidney complications related to diabetes or one recovering from a stroke, if properly connected, a registered nurse can perform assessments on these patients providing updates along the way and actually collaborate with primary/acute/specially care providers when appropriate.
The second opportunity that can be enabled by integration is around medication and compliance. When a physician prescribes a drug to a patient they often don't have their full history of compliance or any sense of the patient's risk level. By automating the task of data communication and relying on individuals across the entire patient lifecycle to input data onto PatientPing, the product automates a lot of the tasks required to ensure people to take their medicine, a problem worth maybe $10Bs annually.
Referrals
Ultimately, a large amount of value with accrue to PatientPing due to the network effects it creates. This moat is built upon the referrals it mediates between providers. The financial incentives will help drive PatientPing's use and importantly updating by providers.
Across one event and even an entire lifetime, a patient will interact with many different forms of healthcare (images below). Even after a discharge, patients often visit post-acute centers (PAC) where $10Bs are wasted through readmissions to hospitals (i.e. cost centers) with shockingly high mortality rates. Many of these patients in PACs or long-term care (LTC) facilities are elderly with more memories - they forget their medication plans or previous experiences interacting with healthcare. PatientPing and similar tools, allows a patient's history across their lifetime to be stored and analyzed to reduce error rates often found in hand-offs. With real-time tracking, PatientPing can offer partners financial gain through increased referrals to SNFs, hospitals, and other groups. This has generated a network effect where these institutions want to start using PatientPing despite the resistance to integrations.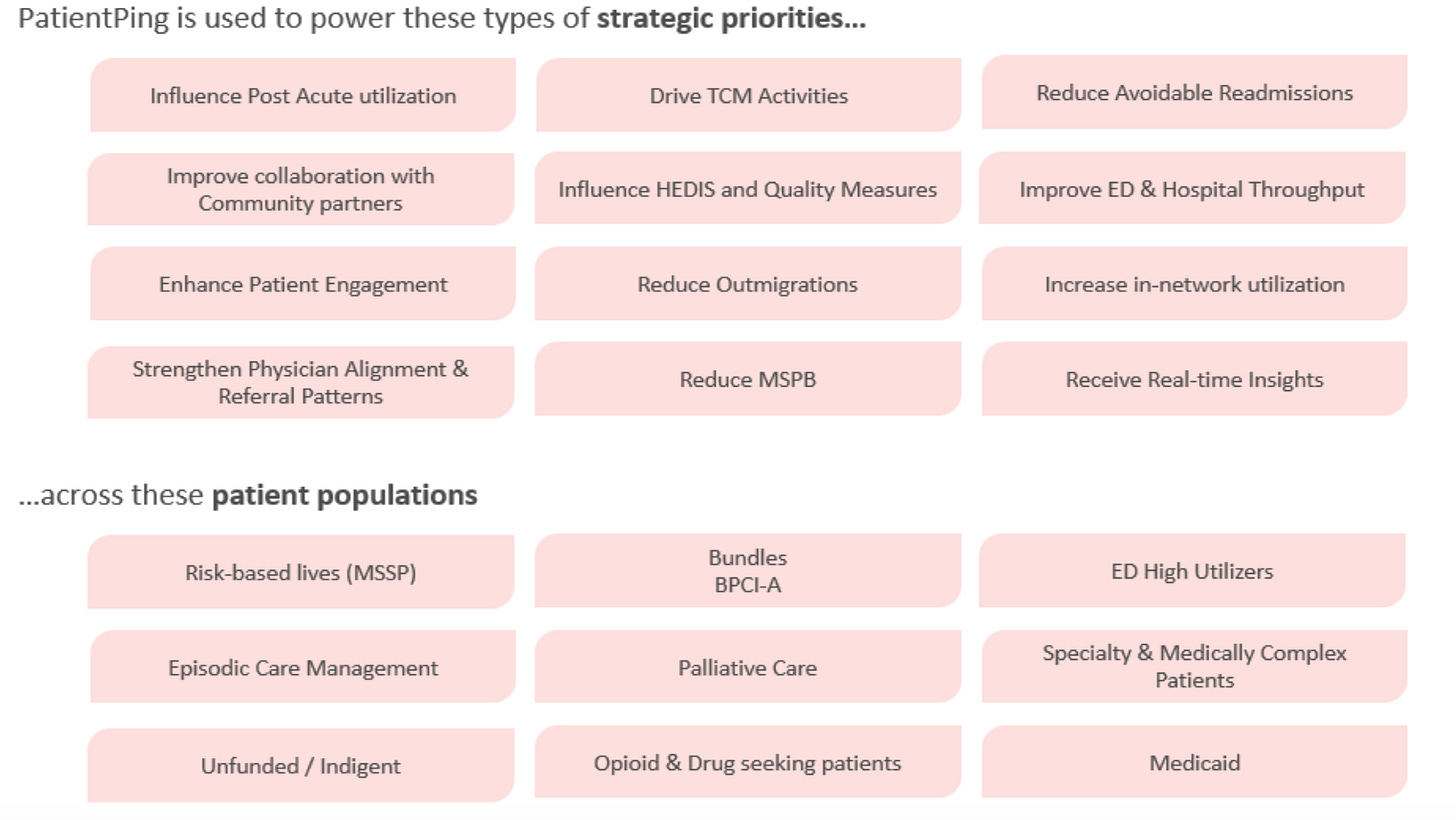 Source: PatientPing (public source)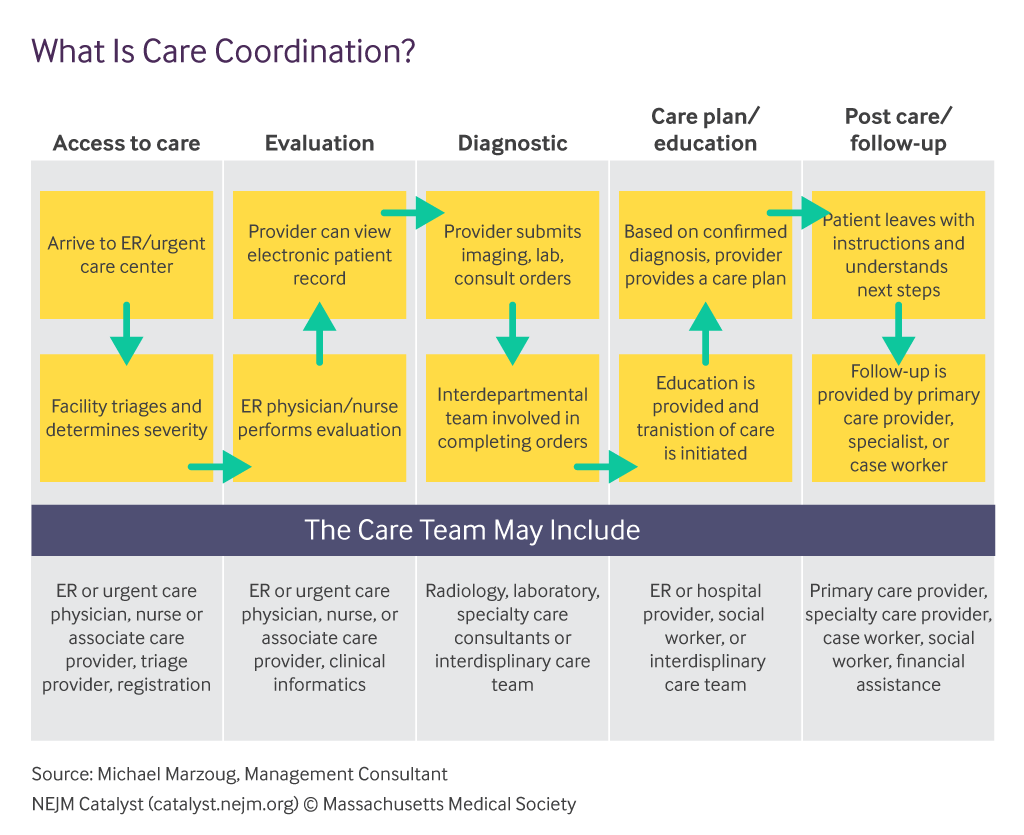 Source: NEJM
Business model
With network business model, PatientPing is reducing the persistent duplication found in the healthcare system - communication, billing, prescription. PatientPing focuses on communications but their are massive opportunities elsewhere like billing (Apero) and prescriptions (PillPack, Blink Health, Zipdrug). Jay Desai likens PatientPing to Gmail where providers can see the latest on each patient via a real-time fee:
"So you've got a list of patients that you're managing or that you're delivering care for and then one shows up at the emergency room. [That] would go to the top of the list."
Within the network, PatientPing coordinates providers across many different groups from SNFs, home health centers, to hospitals: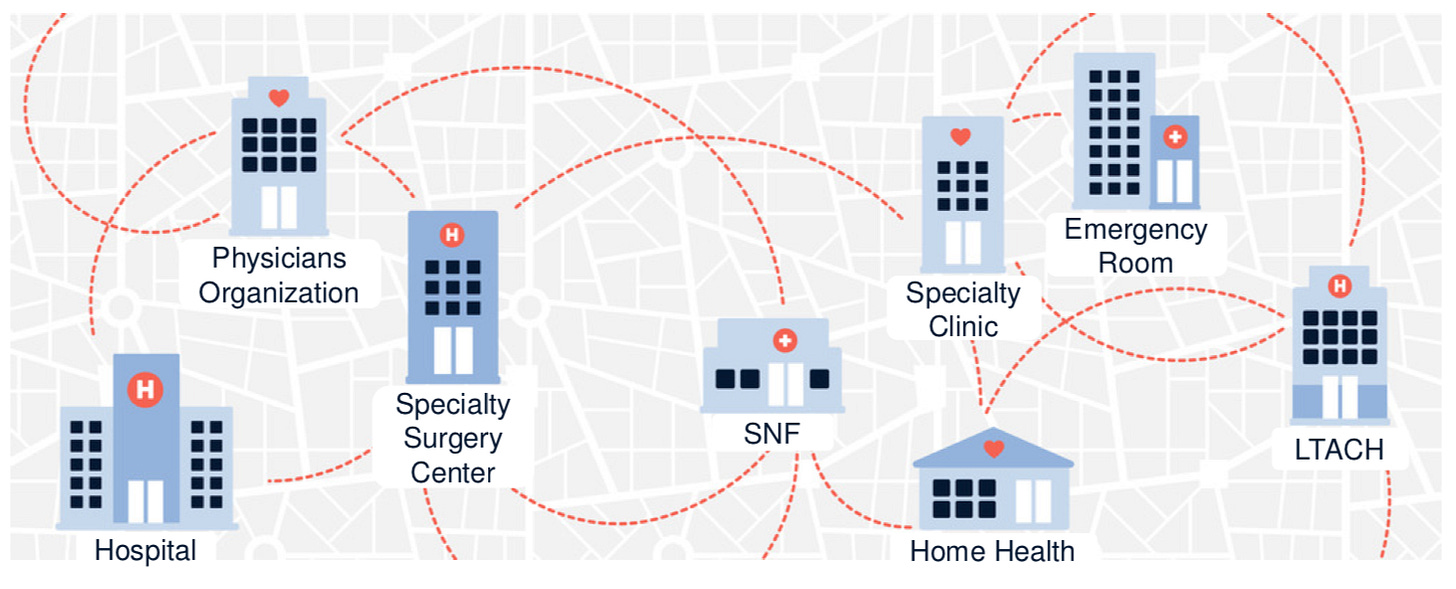 Source: PatientPing (public source)
Since its founding, PatientPing has been able to make its network more well-connected and seamless (image below). The main reason has been the transition in payments for healthcare described a few sections earlier. To look into the future of US healthcare is to look to Europe. Although, it is improbable that the US enacts a single-payor system due to preferences for private plans, Europe is a great place to find new tools actually in use. A great healthcare software investment strategy could be just to focus on Europe where things like telemedicine are actually used. This strategy would be incredibly valuable to inform investing in the US and likely beyond. Examples of great companies commercializing new technologies for healthcare that have emerged are:
In a single-payor systems, some tools accrue most value than others. In the transitory period the US healthcare system is in, reducing waste is often a high-value activity where a large software company can be built. For PatientPing, the focus on communications and hand-offs is playing out to create a great business. Whereas, the European equivalent may not see the same success.
With a major payments transition and signals of success from Europe, PatientPing's business model depends on making providers are properly connected so they can refer patients to one another.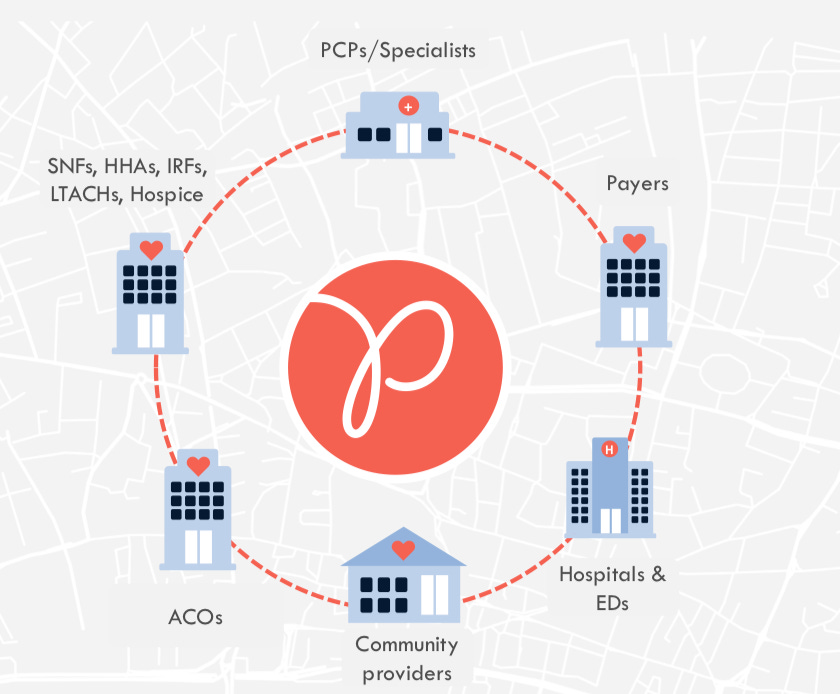 Source: PatientPing (public source)
So far with its business model, PatientPing has been able to on board hundreds of partners (image below of on-boarding value proposition). Two case studies do a good job showing the benefits of the product:
Historically, healthcare communication systems are duplicative. One example is each provider setting up their own nurse call centers for patients with chronic disease. Even then these centers were met with resistance as doctors want to feel they have control over patient outcomes. These examples are prevalent throughout the US healthcare system. Instead of having a parallel, duplicative system, PatientPing creates one standard for coordination.
Over a 100 years, healthcare in the US has developed under fee-for-service creating certain incentives to resist integration and put up with waste. Any fee-for-value business model has to acknowledge that hospitals have fixed costs and no short-term flexibility and as a result, providers are not robust to even short-term slowdowns in patient visits. As a result, PatientPing has chosen to integrate with the existing model in order to be in the position be around later on. Whereas other companies take more revolutionary positions that most of the time don't work because they don't align with financial incentives. It is going to be very interesting on how private plans make the transition (data is a little harder to trust right now on the percentages) and that will probably determine how quickly fee-for-value models will grow not only in software but in drug development, medical devices, and diagnostics. Importantly, how this transition affects where value is accrued? Over the last century, the US healthcare system has been incentivized to deliver care when needed - this massive transformation will reconfigure what business models are possible; ones focused on population health, preemptive care, and networks.
PatientPing has built out a national care coordination network. The product connects providers to seamlessly coordinate patient care all centered around a ping. This has enabled a set of new features in our healthcare system:
Identify high-healthcare users through a patient's history (find at-risk individuals)

Identify a patient's care program and team

Track patients after discharge (incentivized through readmission reduction benchmarks, bundled payments)

Apply and hopefully predict interventions for a patient

Track patients that are admitted into care post-discharge

Increase patient engagement after post-acute setting

Monitor patient migration out of a network in order to improve retention and referral rates

Increase the ability to bill for transitional care management (TCM)
The ping has been a revolutionary but simple step forward for PatientPing and the overall healthcare system. The next 5-10 years will be exciting to see how fast PatientPing and similar businesses can drive the shift to fee-for-value. This transition will create new types of business models with $100Bs at stake.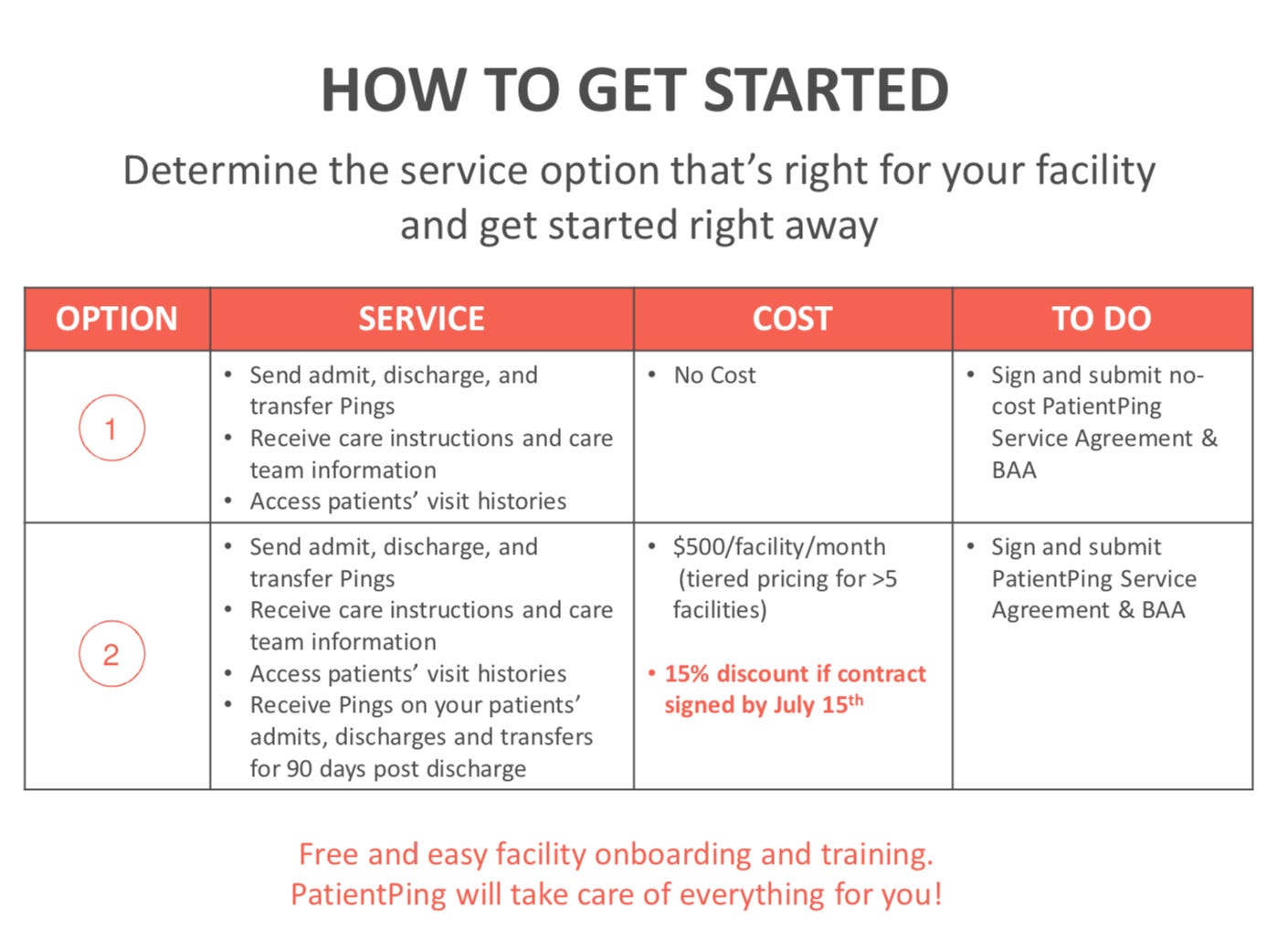 Source: PatientPing (public source)