Axial - Merck
Surveying great inventors and businesses

Merck is one of the greatest drug companies ever. With one of the best selling medicines in the world the company can trace its roots to a small German pharmacy centuries ago. Roughly the Merck story can be divided into 6 major events/parts:
The establishment of Merck in the US and its split from the German parent during WWI

George W. Merck leading the company and establishing a culture around the value of scientific research

Roy Vagelos getting hired from academia and moving up to become CEO growing a culture centered around scientific excellence

Post-Vagelos era of divestitures and management reorganization

Vioxx getting pulled from the market in the early 2000s combined with various patent expirations driving an overall slowdown

A resurgence driven by conviction and some luck that led to Keytruda's current dominance
Merck is one of the largest life sciences companies in the world; however, ~20 years ago, it was a company in distress. The root of the problems were driven by a major shift away from a culture where science led decision making to financing-driven decisions. Around the same time, Apple was actually going through a similar phase. Like Apple, Merck had to get back to it roots to focus on great inventors and science.
Merck can trace its origin to Friedrich Jacob Merck buying an apothecary in 1668 in Darmstadt, Germany. Originally, the company produced and sold morphine, codeine, and cocaine. The business grew over the centuries handed down to each successive generation. In the late 1800s, the family sent a 24-year old George Merck and Theodore Weicker (co-founded Squibb part of Bristol-Myers Squibb) to the US to establish a satellite office in New Jersey. During World War I, George Merck quickly handed over the German interests in the US subsidiary to the Alien Property Custodian. After the war, the Alien Property Custodian sold the Merck shares making Merck a public company - one of the most unique ways a business has gone public. With George Merck having health problems ultimately passing away in 1926, his son George W. Merck was now in charge of the US family business. Within two years of getting the job, the younger Merck merged with Powers-Weightman-Rosengarten (produced the antimalaria drug, quinine). Over the years, Merck was generating enough cash to allow George W. Merck to establish a large research lab in Merck (i.e. Merck Woods) and poach prominent scientists to the company. Powered by this new investment, Merck manufactured and sold vitamin B12 for humans and animals, discovered cortisone, and isolated the transformational antibiotic, streptomycin. To maintain its competitiveness, Merck merged with Sharp & Dohme in 1953 (reason why the company is known as MSD abroad) to gain a new distribution network and marketing capabilities to pair with its research programs. Actually, Merck was an early example of a full-stack drug company for the era - integrating world-class R&D with distribution. By the time George W. Merck passed away in 1957, Merck's sales grew by over a factor of 10 from $6M when he became the head to over $100M. This success enabled Merck to establish a tradition of pioneering drug development research.
George W. Merck: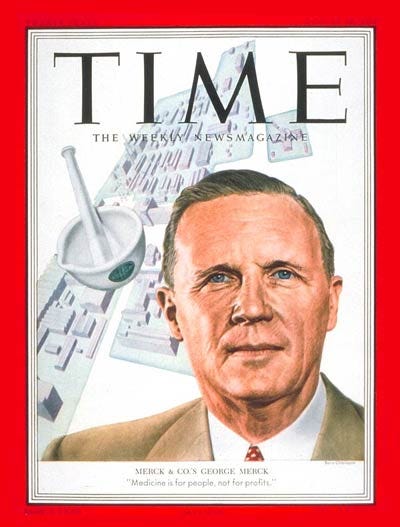 After the George W. Merck era, the company fell into the fashion of the 1960s - becoming a diversified conglomerate. Over the 1960s and 1970s, Merck bought a refrigeration business, a specialty chemicals company, and a water treatment services line; many of which stayed with Merck up to the 1990s. This all led to a decline in Merck's core business - drug development. In the late 1970s, Merck shifted back toward basic research and moved toward licensing to make up lost group from the 1960s/1970s. A key part of Merck's history was the appointment of Roy Vagelos as CEO in 1986.
Vagelos previously ran an academic lab focused on biochemistry of fatty acids and lipids. In 1975, he left academia to join Merck as SVP of Research - mainly driven by a push from others to become a dean and his desire to focus on research. He made two key decisions early on that would define his legacy and Merck:
Driving more investment into research - expanding the basic research budget, hiring more scientists, and modernizing the Merck labs

Focusing on cholesterol biosynthesis - the actual mechanism had been figured out by Bloch and Lynen and Brown and Goldstein (one of my favorite research duos) has close to figuring out how cholesterol was regulated
This revitalization in Merck's research culture and a massive shift in the company's direction, the late 1970s set Merck up for massive growth in the 1980s and its undisputed leadership in drug development.
The cholesterol biosynthesis program was centered around finding a medicine that could reduce cholesterol levels. Focusing on a new target, HMG-CoA reductase, that had been recently discovered to be the driver for the limiting reaction in cholesterol biosynthesis, Merck's research team discovered a natural product, through a lot of trial and error, lovastatin as a reversible competitive inhibitor of HMG-CoA reductase. After various studies to show safety and the ability to reduce cholesterol levels in humans, the medicine was approved as Mevacor in 1987 - the industry's first approved statin. The medicine was actually an orphan drug treating a relatively small number of patients who are very high risk for heart attacks. This work set up Merck's blockbuster, the synthetic version of lovastatin, Zocor in 1992. During this era, Vasotec was approved in 1985 to treat congestive heart failure and became Merck's first blockbuster drug (over $1B in annual sales). With several successful new drugs, Merck was generating $1Bs of dollars in cash that was reinvested into R&D at one point accounting for over 10% of the field's total. With this growth, the company was able to follow through on its value around scientific excellence and made its drug for river blindness, ivermectin, available free-of-charge to patients and freely sharing its research on HIV. With the seeds sown in the late 1970s, the two key decision Vagelos made allow Merck to recover from a slow down in the 1960s and live up to George W. Merck's mission: "Medicine is for the patients. It is not for the profits. The profits follow, and if we have remembered that, they have never failed to appear. The better we have remembered it, the larger they have been."
Roy Vagelos: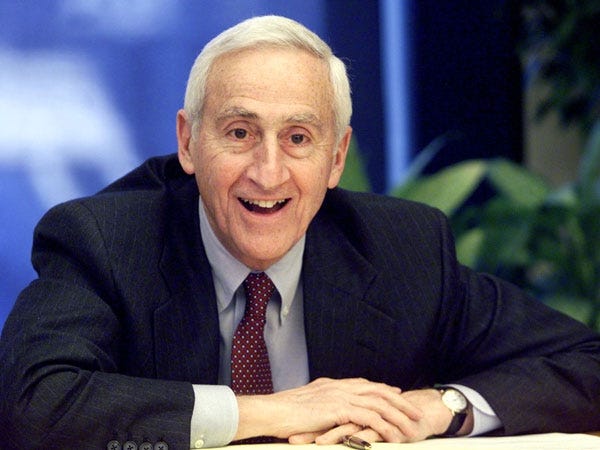 During the 1990s, the Vagelos era was coming to an end with his mandatory retirement in 1994 once he turned 65. The CEO succession process was initially set up to be a smooth process, but after several resignations, the board had to go deep into the bench to find Vagelos' replacement. With multiple patent expirations on Merck's blockbusters and late-stage failures, the company focused on bringing as many new medicines to market to replace the lost revenue. In 1999, Merck gained approval for Vioxx, a new pain drug inhibiting Cox-2. Within 1 year, Vioxx was prescribed over 5M times and generated over $1B in sales.
Before approval of Vioxx, Merck had initiated a superiority study to show that Vioxx was at least comparable to other pain drugs with fewer gastrointestinal problems. In the backdrop of patent expirations and previous trial failures, Merck leadership began making decisions driven by financing instead of science. In 2000, Merck reported three heart attacks for patients treated with Vioxx without mentioning this data in their NEJM publication. This led to a massive controversy where Merck kept Vioxx on the market much longer than needed, mainly to generate sales, ultimately withdrawing the drug in 2004, that led to backlash from the research community and a multi-billion settlement. This destroyed a lot of the goodwill Merck had built up over the decades; the company's future as an independent business was not certain.
In 2011, Kenneth Frazier became CEO of Merck. Originally a lawyer with Merck as a client, he joined Merck in 1992 and was the general counsel overseeing Merck's defense for the Vioxx claims. After a few years getting comfortable with the job (GSK and Hal Barron are in a similar phase right now), Frazier doubled down on prioritizing R&D, through internal work and licensing with smaller companies, over quarterly earnings.
By getting back to its roots, Merck was able to develop and commercialize one of the world's best selling medicines, Keytruda (a PD-1 blocker with $2B in quarterly revenues). However, success was not guaranteed. The drug was discovered by accident during a screen for drugs that would treat autoimmunity. Forbes does the best job profiling the drug's history - https://www.forbes.com/sites/davidshaywitz/2017/07/26/the-startling-history-behind-mercks-new-cancer-blockbuster/#61116b9a948d In short, the Keytruda research program was wound down in 2009 and was made available for others to license. An offer for peanuts was offered for the drug, but data in 2011/2012 from Bristol-Myers Squibb with a seminal paper in 2012 showing the promise of inhibiting PD-1 compelling Merck to end the potential licensing deal and move forward with development.
Merck has been through a lot of ups and downs - getting through two World Wars, recovering from a fashionable period in the 1960s, and a humiliating period with Vioxx. Going back all the way to George W. Merck's initial investment in R&D and Vagelos' hard-driving force to maintain scientific excellence set a strong culture within Merck. Despite all the setbacks, this history and culture has acted as a glue for Merck to let inventors lead the way or at least get back to science-driven decision making. Each era of Merck's success has been defined by leadership that valued research and let the science lead the way.
Kenneth Frazier: