Axial - Foundation Medicine
Surveying great inventors and businesses
From various inquires, feel free to forward this and axial.substack.com in general. It's been awesome to build out a network of scientists, founders, and investors. I appreciate it.

Foundation Medicine is a fantastic business bringing the power of genomics to cancer patients. The company helped drive the shift, which is still undergoing from single tissue biopsies to continuous, multiplex measurements. Founded in 2010 based from work by Matthew Meyerson, Todd Golub, and Levi Garraway at the Broad Institute, Foundation set off to transform how cancer patients were treated.
Foundation was formed around the premise that diagnostics create information that can inform new treatments. As next-generation sequencing was taking off driven by the Sequencing Wars between Roche, Thermo, and Illumina, Foundation was in a great position to bring genomics to assay liquid and solid tumors. Funded in 2010, the company found their CEO in 2011 - Michael Pellini joined as the CEO in 2011 from Clarient part of GE Healthcare and Safeguard Scientifics. In 2012, the company released its first commercial product - FoundationOne for genomic profiling of solid tumors then launching FoundationOne Heme for hematologic cancers and sarcomas. Around this time, Foundation began transitioning its business model from a pure play molecular diagnostics play to one focused on medicines with a pilot with Novartis and scaling up the model to well over 20 partnerships within 5 years. After going public in 2013, Foundation entered into a partnership that would define its trajectory; in 2015, Roche acquired a majority interest in Foundation to more closely partner with the company. Three years later, Roche acquired the rest of Foundation in a steal of a lifetime. For Roche, the acquisition is part of a larger strategy to become a full-stack drug developer (similar reasoning to buy Flatiron and combine Foundation's and Flatiron's capabilities). Similar to Guardant Health, Foundation serves as a great case study of how to design a diagnostics business model that still can access drug economics. Premised as an information platform Foundation is also an example of how to build moats around a set of biomarkers/algorithms - always fun to have the ability to make a great business with a computer - many of the Brian Wilson's (Beach Boys) classics were made in his bedroom; similarly more and more great life sciences companies will be conceived in a garage or a bedroom:
Key findings
Integrating with traditional sample preparation methods and clinical workflows instead of reinventing them to bring genomics to cancer diagnostics and patients.

Use the beachhead with clinicians to convince biopharma to work with Foundation allowing the company to help power drug development and use.

Foundation had the conviction to believe that genomic-based tests would be used and paid for as long as the data was compelling enough, which allowed them to gain a first-mover advantage.

Matched up regulatory approval and payment together, with substantial risk, to quickly validate its business model and scale up its product set for clinical trials and therapies.
Technology
At its founding, Foundation brought together next-generation sequencing (NGS), clinical oncology, and cancer biology together. An early paper from Garraway to develop a method called OncoMap conveys some of the themes Foundation was building upon. In 2005, the Cancer Genome Atlas Project (the founders, Golub and Meyerson were major participants) begun sequencing cancer genomes reaching tens of thousands by the time Foundation was founded. Off the back of public data, Foundation was premised that more and more information generated from cheaper sequencing ought to generate clinically relevant information.
Since its founding, the company has been able to launch several products:
FoundationOne CDx - solid tumors (commercialized beginning in 2012; turnaround time of 11-14 days)

FoundationOne Liquid (was called ACT - Assay for Circulating Tumor DNA) - liquid biopsies for solid tumors (commercialized beginning in 2016; turnaround time of 11-14 days)

FoundationOne Heme - leukemias, lymphomas, or sarcomas (commercialized beginning in 2013; turnaround time of 15-18 days)

FoundationCore - database of over 350K genomic profiles across ~150 cancer subtypes (FoundationInsights is the web application for Core and FoundationICE makes test reports available to the ordering physicians)

FoundationSmartTrials - optimize trial design and patient selection
All of these products point toward making genomics clinical-grade. In cancer, many genetic mutations remain undiscovered with a very long tail of actionable biomarkers. The key thesis that drove Foundation's success was the shift from defining cancer based on its specific anatomical location in the body to a genomic signature. With many cancers containing at least one actionable mutation, NGS is a useful tool to breakdown a cancer into various genetic signatures. In the early 2010s, there were various bottlenecks to bring the power of NGS to cancer patients from sample quality, reimbursement, and clinical relevance. But with the winds of a changing cancer treatment paradigm at its back, Foundation was able to translate the ability to integrate the long tail of cancer genes in diagnosis and treatment to expand the therapeutic options for patients: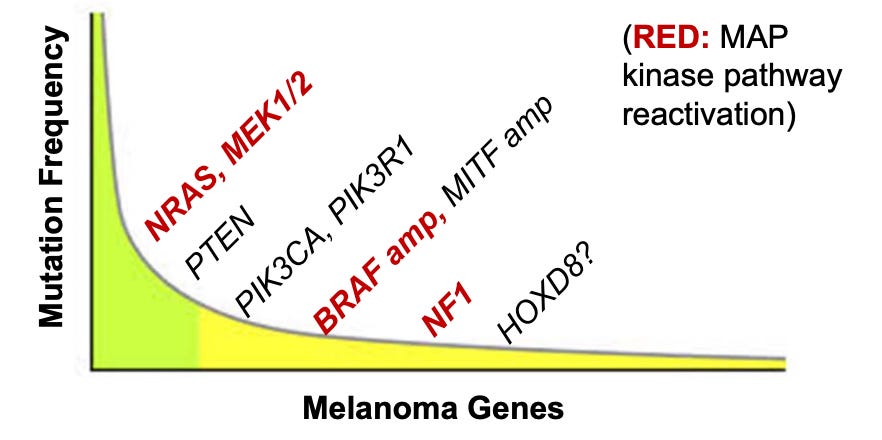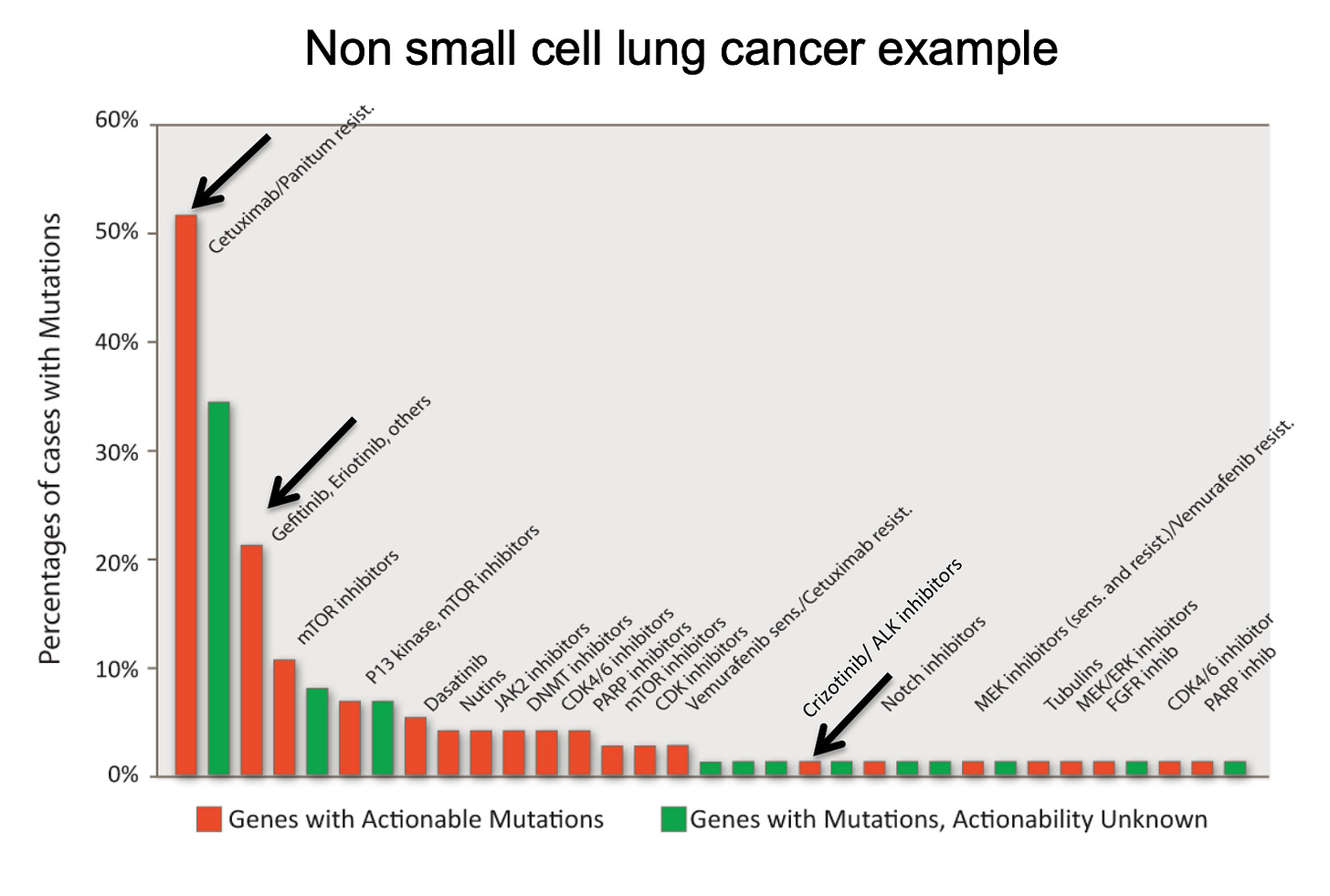 Foundation built its business around its FoundationOne platform (images below) to sequence a cancer sample (both RNA and DNA) and generate a clinical recommendation. They brought to market several products formed around 4 major pillars:
Molecular profiling - retrospective and prospective analyses of patient samples

Companion diagnostics - developing diagnostic assays to inform therapeutic use; in 2016, Foundation received FDA approval for the first NGS-based test detecting BRCA1/2 mutations for women with ovarian cancer to identify patients who will respond to Rubraca (Clovis Oncology). Overtime, Foundation began integrating tumor mutational burden (TMB) into these tests - measuring the quantity of mutations within a tumor. This pillar for Foundation gave the company access to new targets and an ability to participate/inform development of new medicines despite the overall slow uptake of companion diagnostics.

Trials - new clinical trial designs, improved patient selection, and expanded patient populations

Data - clinical data on over 350K genomic profiles across ~150 cancer subtypes (was ~100K a few years ago when various partnerships were struck) to allow partners to find/validate new targets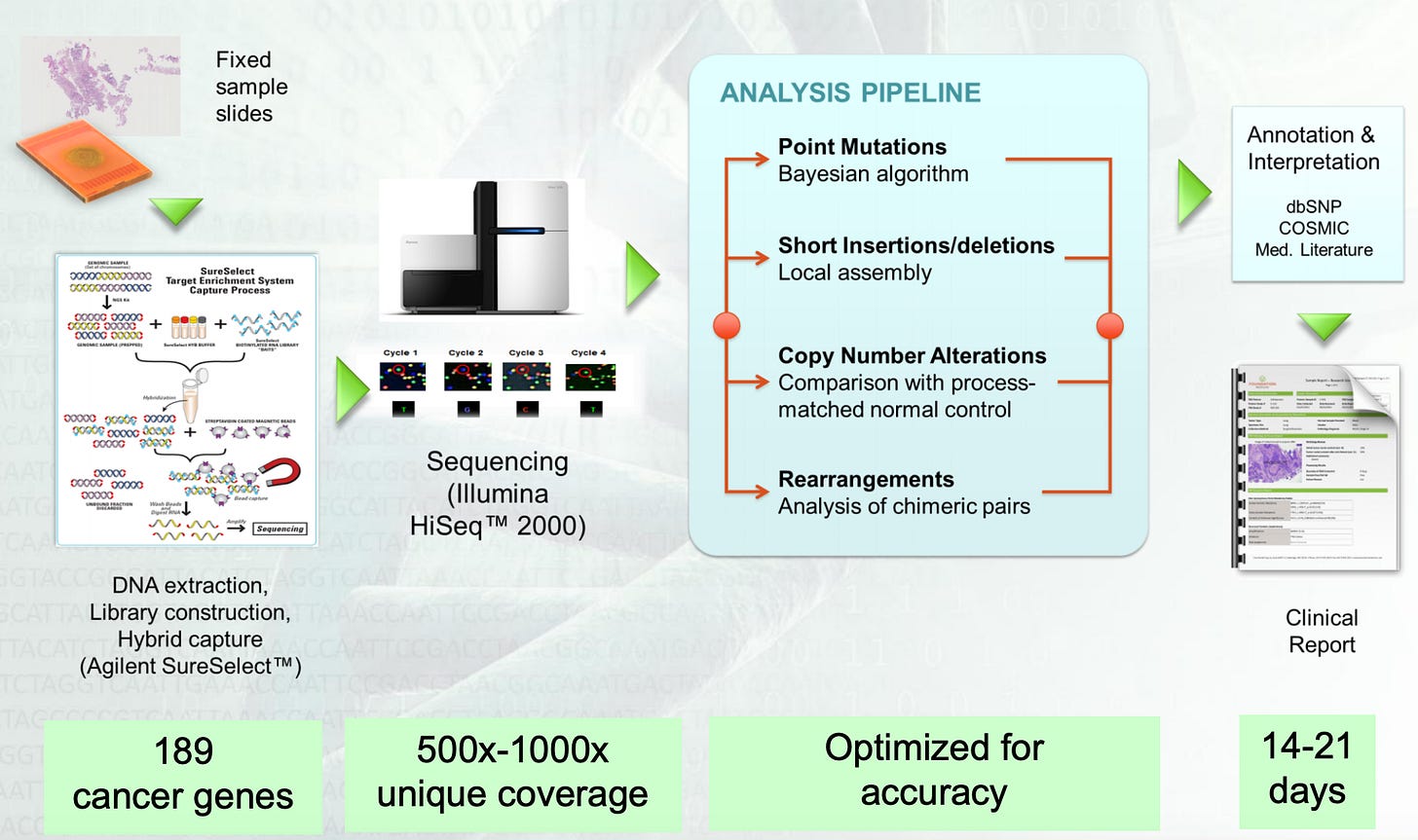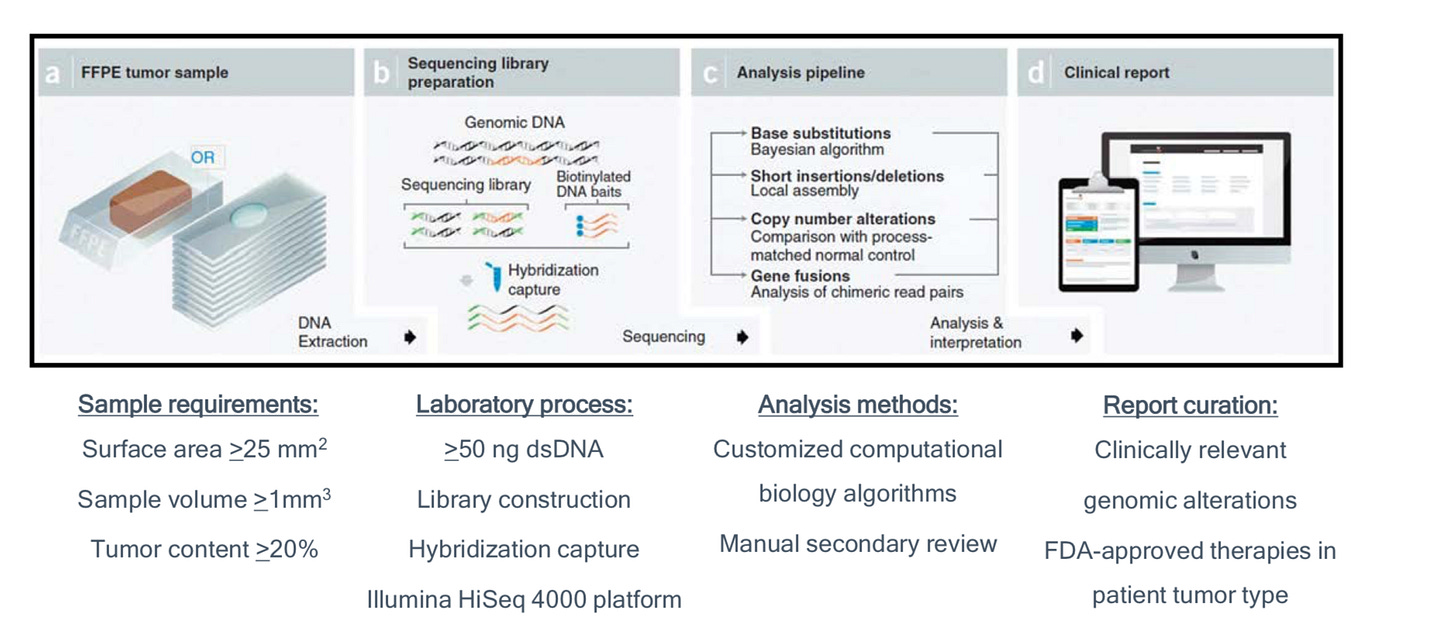 Pursuing these 4 fields, Foundation had to build out technology to address two main constituents clinicians (drive payor reimbursement) and biopharma (where a lot of value in healthcare accrues).
Clinician
For clinicians, what matters most is the ability to make discoveries from NGS/genomics into actionable results. The overall workflow for a clinician using Foundation's products:
Patient encounter

Molecular profiling

Data interpretation

Management decision

Clinical response? If yes, monitor. If no, move onto step 6.

Drug resistance? If yes, new treatment regime. If no, salvage and go back to step 2.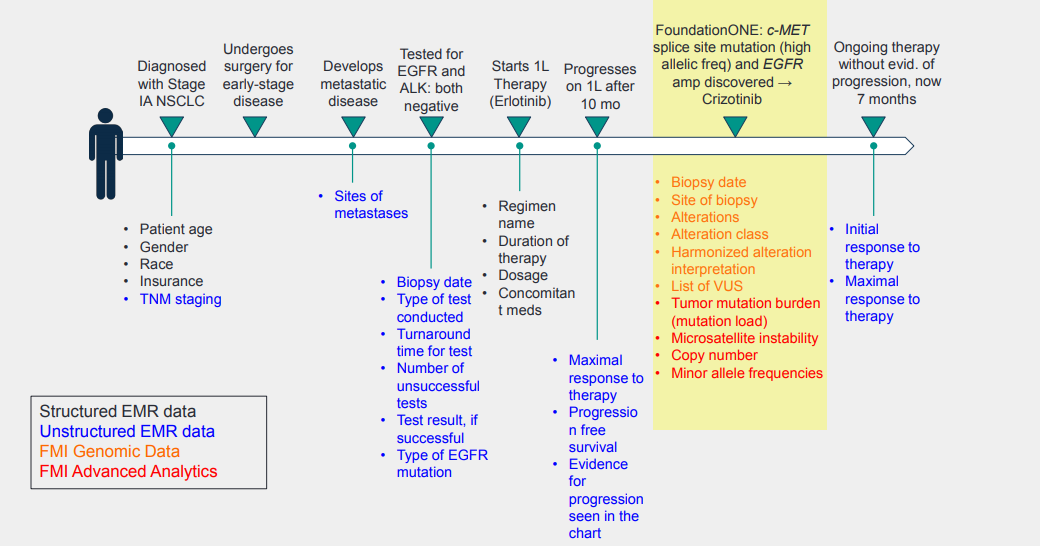 Within this workflow, the key technical bottleneck Foundation had to solve was patient sample quality. Early on, the company invested a lot of money into the ability to successfully sequence the limited amounts of DNA found in formalin-fixed, paraffin embedded tumor specimens. This technical decision enabled Foundation to easily integrate into existing clinical practices. To succeed, Foundation needed to generate sequencing data from small amounts of tissues that were processes under a traditional method. Rather than trying to invent an entirely new way to obtain samples, the company brought its NGS toolkit to an existing process - getting to market more quickly and brining the power of genomics to clinicians and patients: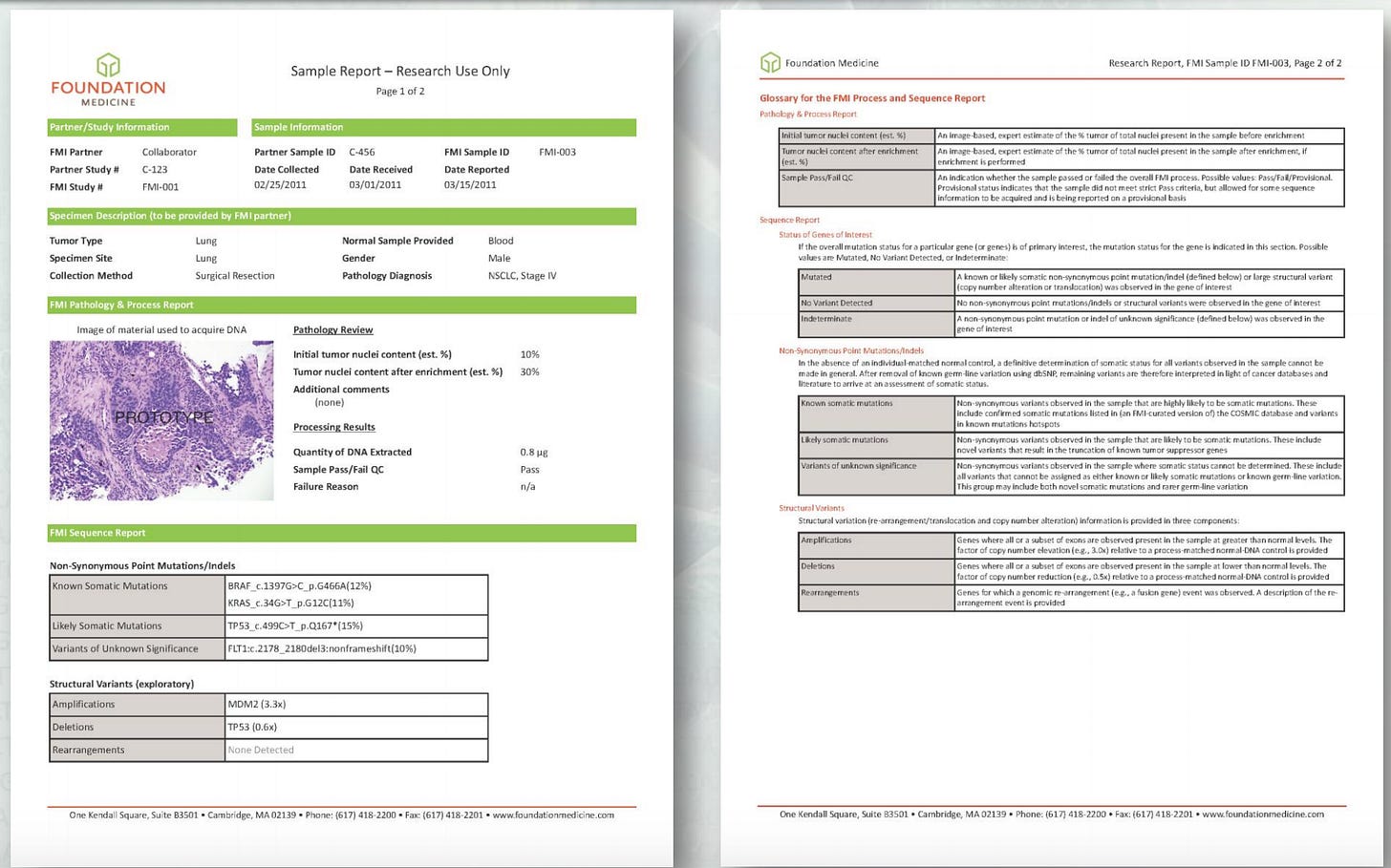 The image above is an example clinical report from Foundation - after profiling a patient sample, the company interprets the data and generates a physician friendly report. The interpretation step is often the most complex for clinicians. Foundation did its best to support this step. But its technology was more focused on sequencing rather than analysis. Roche bringing together Foundation and Flatiron filled out this gap (image below). For clinical interpretation there is a pathway from a report to a decision:
Data generation

Knowledgebase of mutation/disease relationships

Clinical report

Tumor board / Clinical consultation (both often done concurrently)

Oncologist - final treatment decision for a patient
Each of these steps are very time and people intensive. Foundation brought genomics to the process; however, the last two steps still represent a very large opportunity for new companies.
Overtime as Foundation was gaining traction with clinicians, the company moved toward clinical trial design for new medicines (i.e. gain access to drug economics). With its FoundationOne platform, the company had the ability to take into account the long tail of cancer mutations for trial design and patient recruitment. For the treatment group, instead of treating a heterogeneous patient population as a homogenous group, a genomics-driven trial can match a drug to a specific mutation:
Targeted group - Mutation A + Drug A, Mutation B + Drug B, and Mutation C + Drug C

Control group - randomized and agnostic to mutation status but controlled for tumor type
This approach was only enabled by the increasing realizing that cancer can be classified by various mutations instead of purely location: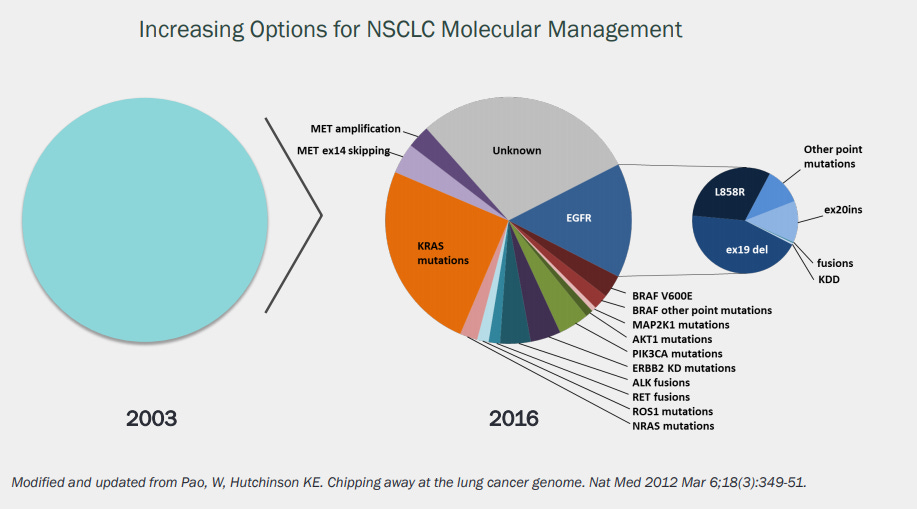 Biopharma
The work with clinicians ultimately was the beachhead for Foundation to aggregate enough clinical data to compel biopharma companies to work with them. The key problem for most drug companies is getting paid to treat as many patients as possible for their new therapies. As payors were getting smarter about drug prices and treatment plans driven by the shift to fee-for-value, biopharma needed ways to accurately match patients to their drugs. Foundation had built out the engine to do this for diagnostics, it was only natural for the company to support large drug companies. Currently, the canonical example is the response rates for checkpoint inhibitors against solid tumors - 10%-30%. The value proposition of Foundation for biopharma partners:
Increase hit rates for therapies (most compelling one)

Stratify patients for clinical trials to increase the odds of success - single-agents, combinations, longitudinal studies, salvaging studies that do not meet primary endpoints

Identify resistance markers to inform use of therapies

Support rationale for combination therapies

Develop new biomarkers and help validate new targets
As Foundation executed, the company built out a substantial technical moat around TMB (image below). From 2014 onwards, publications were showing the correlation between TMB and drug response rates across a diverse set of tumors. Driven by the network effects embedded within its business model - provide a report and allow clinicians to report data back to improve clinical reports to get more clinicians, Foundation was able to validate a wide set of biomarkers centered around TMB to inform drug development and use, which made the company so attractive for Roche.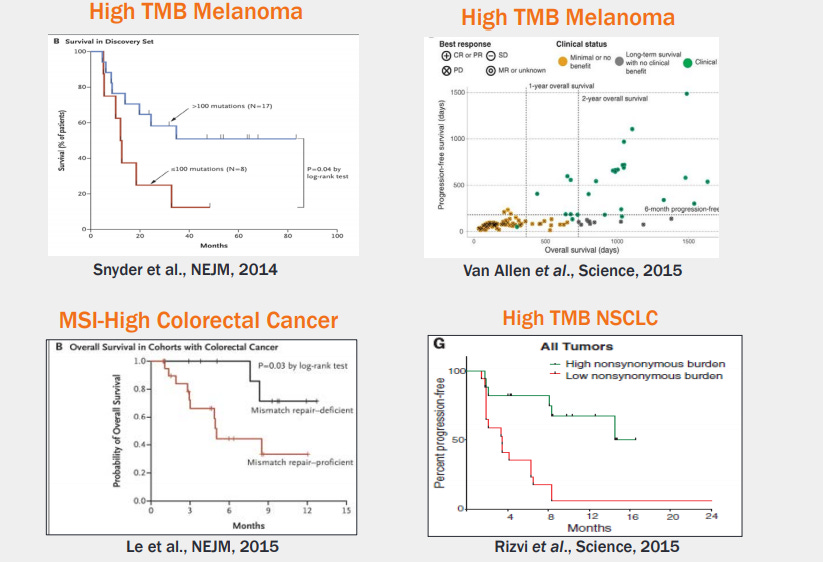 Ultimately, Foundation brought NGS to the clinic successfully by integrating within existing workflows. Driven by the movement toward treating cancer as a series of individual disease (almost similar to rare diseases and n-of-1 trials), the company was able to help drive cancer diagnostics from a single snap-shot to a comprehensive profile (image below). By the time Roche purchased the rest of Foundation, the company had made significant technical progress with a few outstanding problems left for the company or new ones:
Integrating epigenetic drivers into profiles

Doing something similar for proteomics (i.e. clinical-grade mass spectrometry)

Sample preparation for NGS in a clinical setting

Single-cell sequencing - treating a cancer as a fruit basket versus a smoothie
Market
There were various technical problems Foundation had to surmount, but thankfully, the company had little market risk. The need to diagnose cancer patients more accurately is incredibly large. At the time of founding, a key risk was on the timing of reimbursement for genomic tests. Given the various discoveries around genetic drivers for various cancers made over previous decade and the precedent set on commercialization of new methods (i.e. PCR-based), Foundation could feel confident that the FDA would approve their tests and payors would reimburse them if the data for their tests were compelling enough. Moreover, there were minor issues around patents and genes (i.e. Myriad). Combined with the lack of formal rules from the FDA for NGS-tests, Foundation had the courage to believe that they could bring comprehensive tests to existing clinical workflows.
As cancer diagnostics increased in sophistication (image below) partly driven by Foundation, the company had the ability to pursue more markets and extend existing ones:
Molecular profiling - with Medicare reimbursement at an initial rate of $3,500 per test for the FoundationOne CDx test and a ~million newly diagnosed, late-stage, and recurrent cancer patients, the market size for Foundation is well over $3B. The barriers for market uptake were sample preparation and providing clinically relevant information (i.e. a report that physicians like and use). There is a potential expansion to a few more million patients for earlier diagnoses representing a much larger market.

Companion diagnostics - the market size potential is in the tens of billions but the actual revenue in the $100Ms. The overall use of companion diagnostics was very promising when Foundation was getting started but has been lackluster. There are over 30 tests approved now - https://www.fda.gov/medical-devices/vitro-diagnostics/list-cleared-or-approved-companion-diagnostic-devices-vitro-and-imaging-tools

Trials - low single-digit percentages of cancer patients are actually enrolled in clinical trials. The potential to expand participation rates through more precise matching is an opportunity that generates $10Bs of sales for companies.

Data - founded as a molecular information company, the terminal value of Foundation was in the data it generates and analyzes. The market opportunity here is hard to assess but from public reports, Foundation was telling public investors that it was a "$12-15 billion over the next three to five years." By selling its molecular information to companies informed by new cancer drivers they discover along with the broader medical community, drug data, and clinical trial information Foundation was able to aggregate even more information to feed into their FoundationOne tests for further refinement.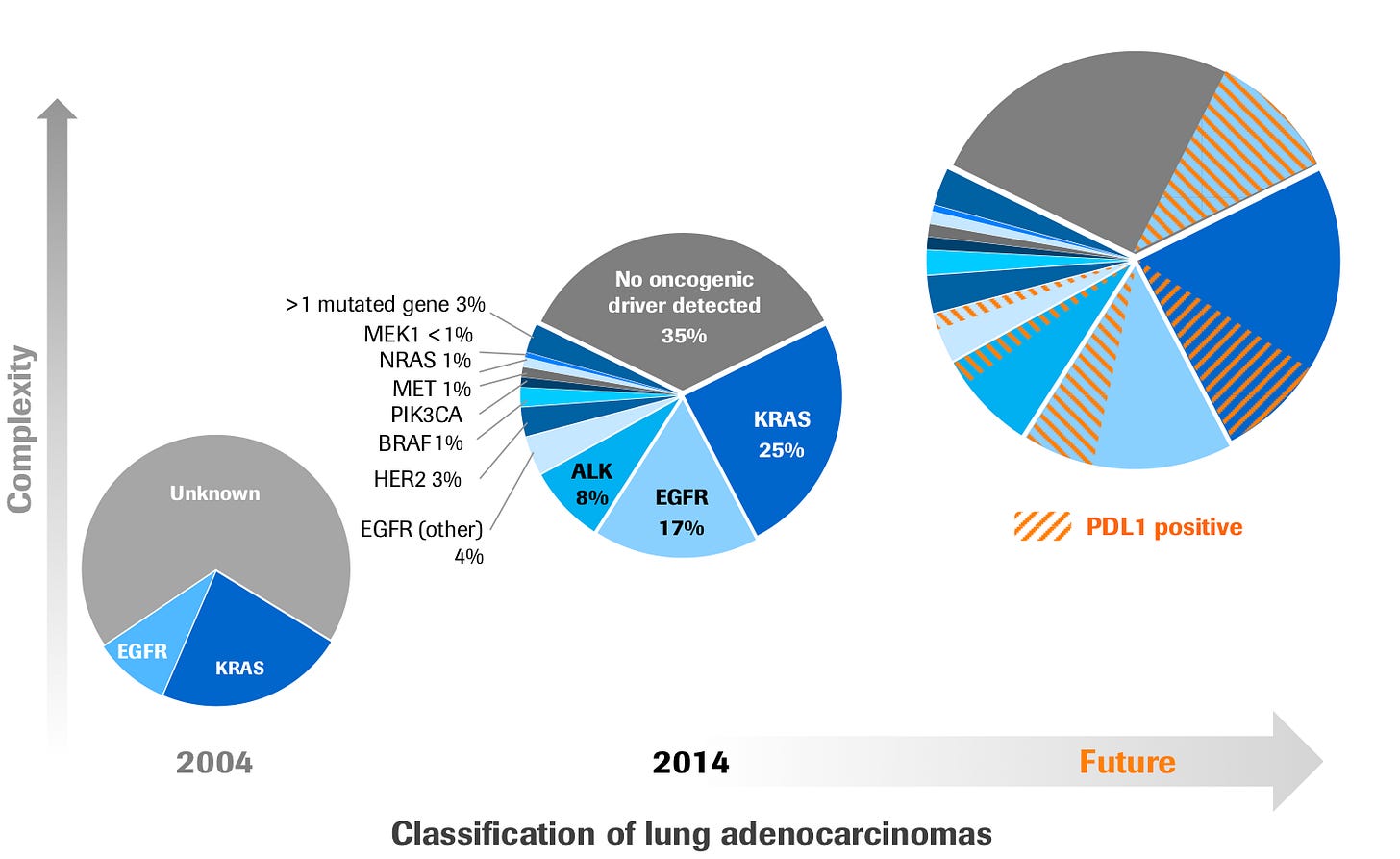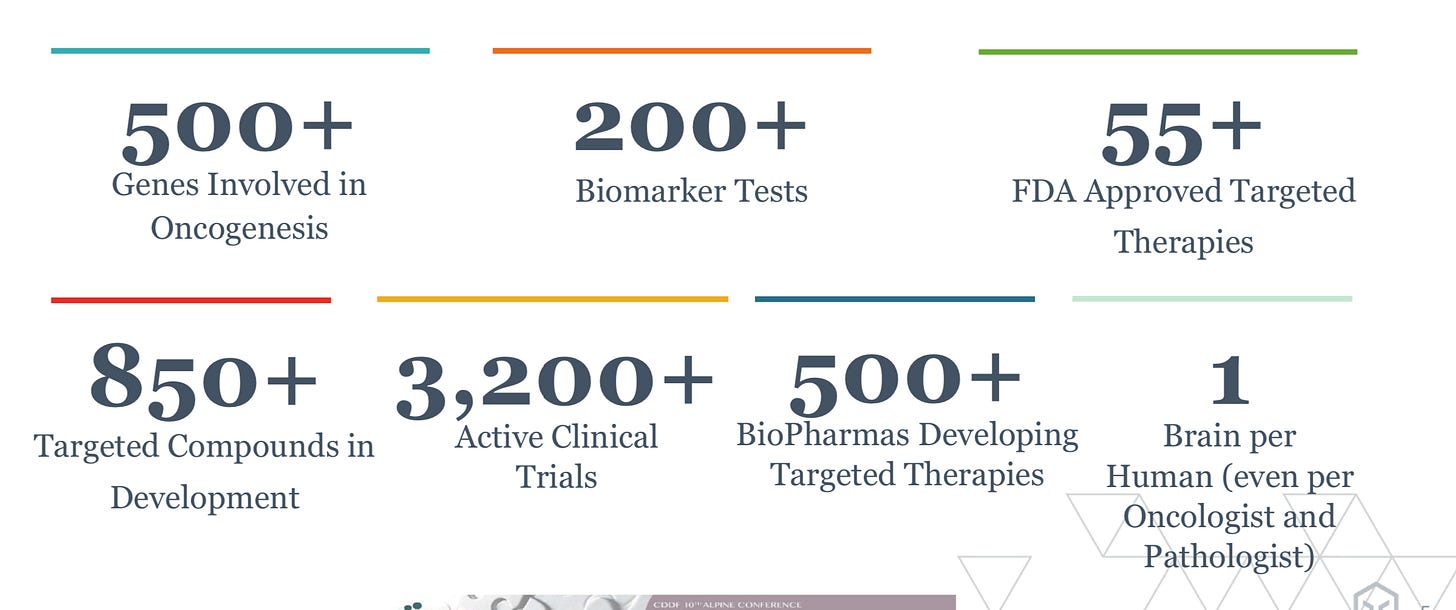 Business model
Foundation designed its business model around the patient data it could generate and the resulting interpretations. The molecular information allowed the company to work with a diverse set of customers and importantly get reimbursed for these tests: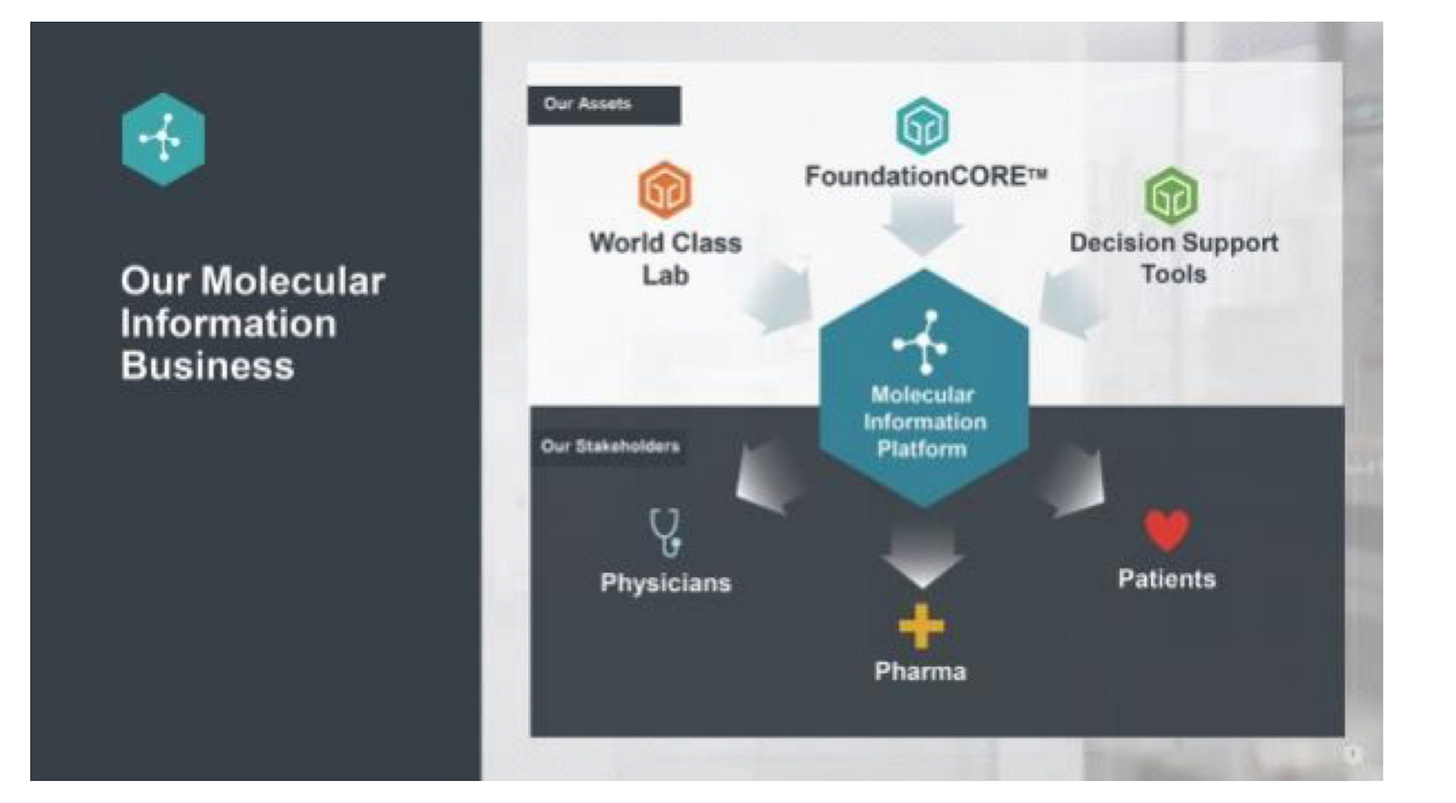 Clinicians
The initial product set Foundation introduced suggested that their business model was a conventional molecular diagnostics one - think Cepheid or Becton Dickinson. Foundation spent two years doing the heavy lifting to make sure NGS could be integrated to more traditional cancer diagnostics methods. Between 2010-2012, the company conducted various PoC tests on thousands of clinical samples, retrospectively and presented at various conferences (i.e. ASCO) before approval of their first FoundationOne test in 2012.
After regulatory approval, an important moat especially for a first-mover, Foundation allowed sharing of genomic/treatment data across its FoundationCore product line, a key decision that created a network effect where clinical use improved the tests thereby increasing use. With the first comprehensive genetic profiling test, Foundation was able to get a first in the door in the clinic and was able to stay there with the value for physicians the interactive and useful clinical reports Foundation provided.
Biopharma
Most companies would rest on its laurels and remain a conventional diagnostics company. That cold build a $100M dollar business, but to build something larger, all life sciences companies realize the power of developing new medicines. With a strong value proposition for clinicians, Foundation was in the position to not only diagnose patients but optimize treatments.
The 2015 partnership with Roche that set Foundation up for a multi-billion acquisition was mainly for improved trial design, companion diagnostics, and the data. The partnership with Roche was advantageous in a lot of way and not optimal in other ways. However, in the nitty gritty of the contract, Foundation could terminate Roche's exclusivity if certain sales minimums were not met for each test (CDx, Heme, ACT) over 3 years. Moreover, Roche did allow Foundation, and still does, the ability to work with other companies - more data for Roche. The value proposition for Roche and other biopharma partners was insights into targets, combination therapies, clinical trial design, and companion diagnostics. Something less spoken about was Foundation's regulatory strategy - instead of getting FDA approval for a test then waiting for payor coverage, Foundation took a risk with a parallel review process for its FoundationOne products where approval and payment were roughly lined up together. Between 2014-2017, the company saw a significant ramp up in revenue mainly due to this unique model. Roche definitely got a deal when they bought Foundation outright. Depending on the execution within Roche, there might be an opportunity to extend upon Foundation's success and build a new company.
Foundation's business model is pretty elegant - simple enough for others to pursue but requiring various technical solutions - clinical relevance for NGS-tests and workflow integrations to make it work. Foundation helped pave the way for diagnostic companies that can move into drug development - centered a core genomics-based engine treating cancer based on its genetics, Foundation solved important technical and business model problems to move beyond a pure-play molecular diagnostics model to a broader one focused on matching patients to therapies: