Axial - Evotec
Surveying great inventors and businesses

Evotec is a drug discovery and development partnering company. Similar to Adimab, Evotec relies on partnerships to bring drugs through the clinic and to patients. However, Evotec relies on focused CRO-services instead of a unique invention. By integrating various types of experiments, Evotec has been able to achieve a certain scale in preclinical work to compel biopharma companies to strike up deals with Evotec making the transition to integrate clinical work. As a result, Evotec is pioneering the partnered drug discovery model.
However, this model was discovered mainly through trial-and-error. Evotec was founded in 1993 in Hamburg, Germany by Nobel Laureate Manfred Eigen (measuring chemical reactions), Charles Weissmann (cloning interferon) and a set of German scientists and entrepreneurs. Since its founding, the company has had a circuitous route to its current model. In 1996, the company collaborated with Novartis and SmithKlineBeecham to create a high-throughput screening service for the two partners called EVOscreen. In 2000, the company finally launched EVOscreen and began working with companies like Roche, Merck, and Eli Lilly. Evotec was a tools company, a drug development company, and a services company. Around this time, the company split its various business interests into two divisions: drug development and tools. The latter was sold off to PerkinElmer to focus on drug development.
Over the next decade or so, Evotec built out its capabilities to run drug development programs and forge partnerships. Instead of relying on a breakthrough technology, the company designed a new set of methods. Often, this approach relies on enough capital to get scale. A new invention can be a moat itself; however, a method only at scale is defensible. So Evotec caught a few breaks in 2013 getting a major investment from BVF and in 2017 from Novo Holdings. These capital raises gave Evotec the ability to scale up their services to give them the chance to use that engine to compel partners to work with them. Over the last 12-24 months, the company has been able to close a few significant deals and show more and more that CRO-like business models can be designed to get access to drug-like economics. This bodes well for companies like Atomwise, Asimov, and Twist Bioscience.
Evotec has been validating a model where integrated services supports internal drug development. This approach has allowed Evotec to generate cash to reinvest in its technology in order to increasingly get access to unique economics:
Ownership in spin-offs that use Evotec services (Ginkgo doing something similar in industrial biotechnology)

Performance-based integrated discovery alliances

Same for clinical alliances

Initial equity investments in academic spin-outs
A powerful way to represent Evotec's business model is to compare its total revenue and revenue per share over time to conventional drug development models like Bluebird Bio and Moderna. The latter are great businesses for their unique inventions, but Evotec has a steady growth in revenue when compared to the other two companies. Whereas Bluebird and Moderna have binary cash flow characteristics, Evotec has been able to design, albeit over 3 decades, a business model that linear cash flow with access to binary outcomes: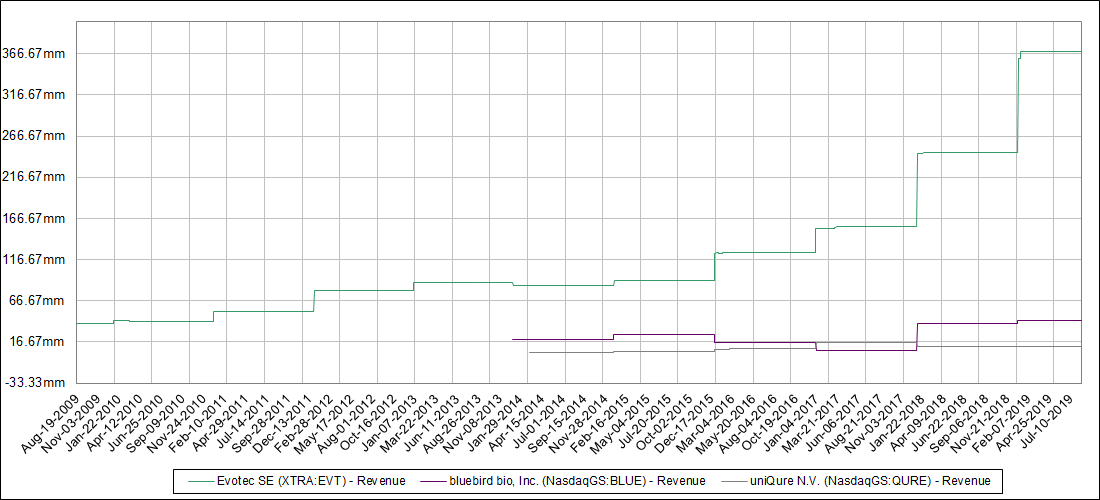 Source: Capital IQ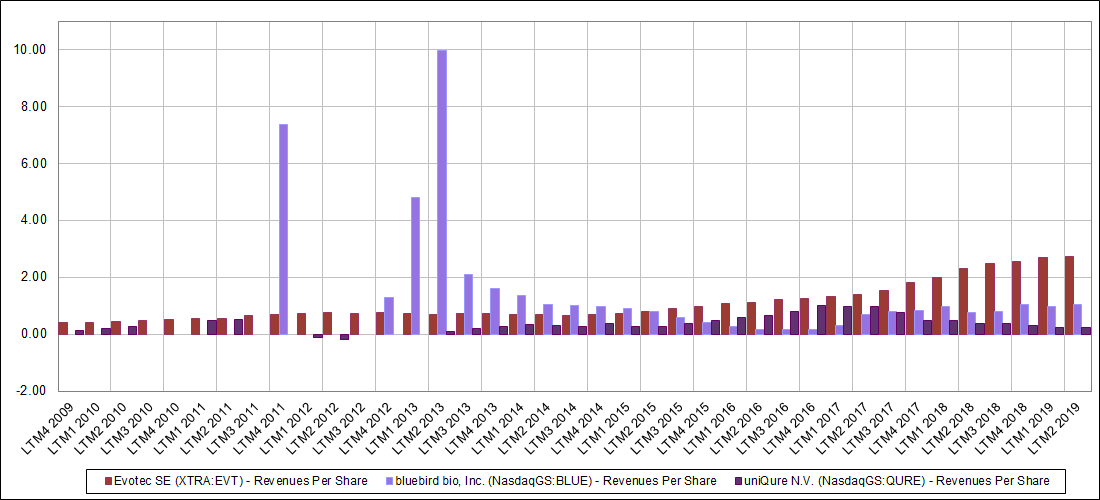 Source: Capital IQ
Key findings
Similar to video game development and the film industry, Evotec has created a platform and deployable teams to accelerate drug development and not take developmental risk but still get access to drug-like economics.

Ultimately, Evotec has designed a business model with linear cash flow characteristics with access to binary outcomes.
Technology
Evotec has spent most of its history on preclinical features of its platform: target validation, hit identification, toxicity, and optimization (image below). The major pivot point is INDiGO - a package of software, consulting, and historical data to translate preclinical work into clinical drug development. The process works:
A partner has a single or a list of potential drug targets

Preclinical work is done to screen for efficacious modalities and optimize them

A clinical candidate is selected driven by data, the partner, and the Evotec team

Once a clinical candidate is selected, a dedicated team and services are spun up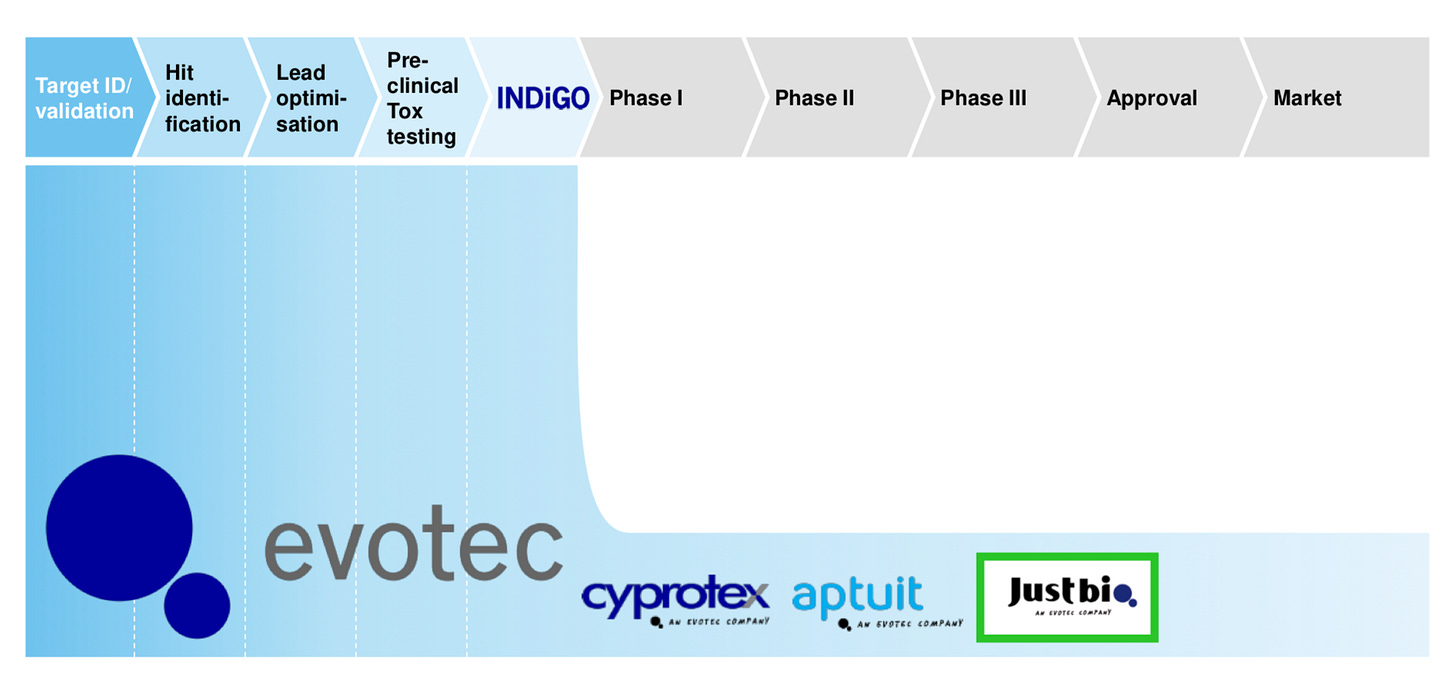 Source: Evotec
The platform for pre-clinical work integrates a series of experiments (Source: Evotec/image below) that drive the development of a new medicine:
Target identification and validation

Hit-to-lead/lead optimization

Assay development and screening

Disease biology and target class expertise

High-throughput screening

Medicinal, synthetic, and computational chemistry

In vitro target validation

High-content screening

Library design, procurement, and synthesis

In vivo target validation

Target deconvolution

Electrophysiology

Protein-ligand crystallography and structure-based drug design

In silico screening technologies

In silico ADME-Tox

Fragment-based drug discovery

In vitro ADME, rodent PK, and bioanalysis

In vitro and in vivo pharmacology

Chemoproteomics

Cellular selectivity analysis

Phosphoproteomics

Cellular MoA analysis

Biomarker discovery

Early drug formulation and solid form screening

PK/PD profiling and mathematical modeling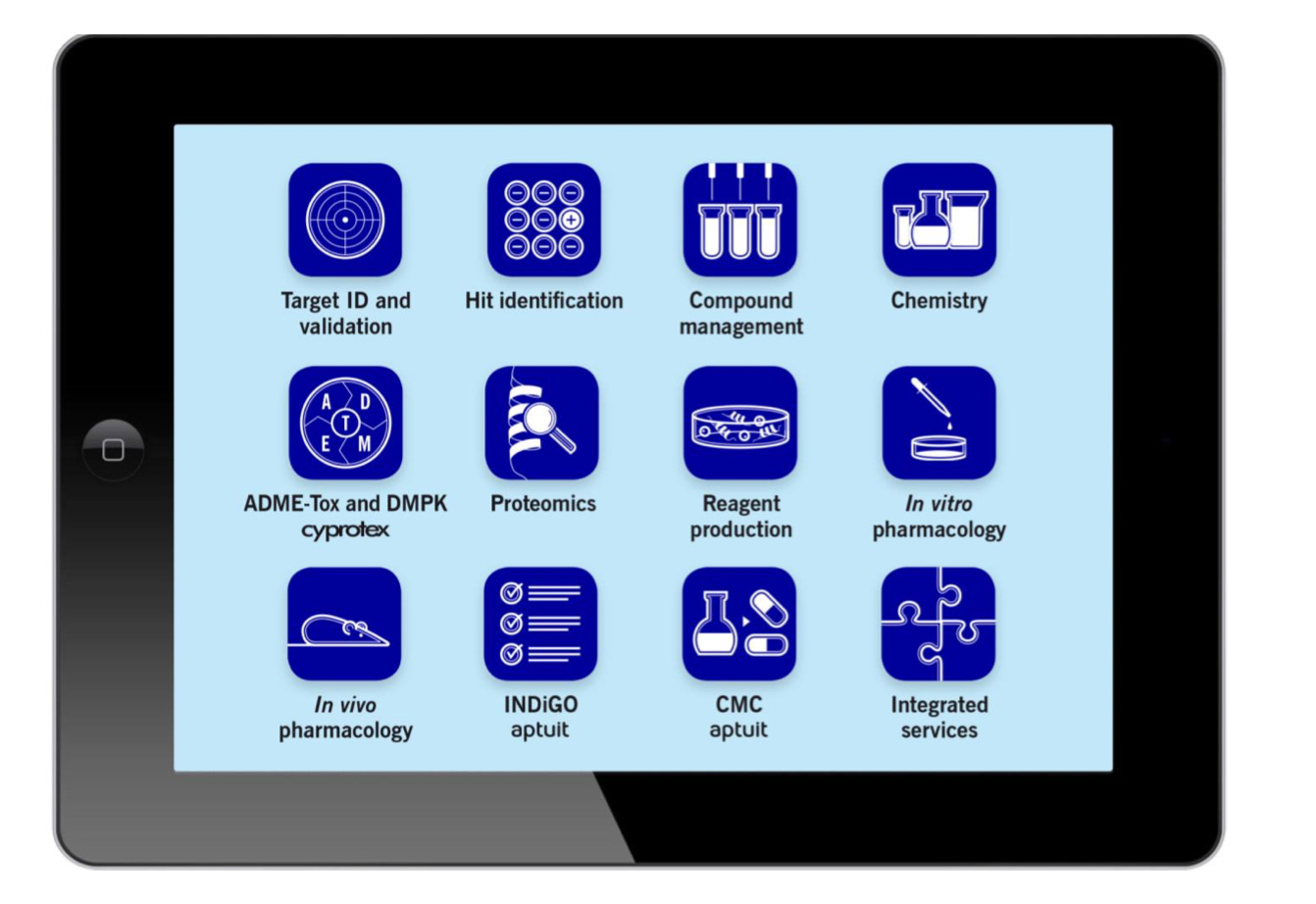 Source: Evotec
Evotec has a multi-decade track record in preclinical services and only within the last few years has the company integrated clinical capabilities. However, this transition has the potential to create $Bs of value for partners and Evotec. Especially as technology has impacted many preclinical activities but has yet to even begin to transform clinical studies.
Similar to the video game or film industry, clinical drug development requires a team of experts to be on boarded for development. However, in all three industries once the product is made (i.e. game/film release, drug approved), the company often doesn't need the team. For clinical work, Evotec has built out a team and offers it where needed. Driven by a playbook, a partner's clinical program is managed by a single team at a single site depending on the indication and modality (image below). Whereas, most drug companies rely on multiple vendors to file an IND, enter in various phases, interact with the FDA, and hopefully get approval, Evotec is eliminating these inefficiencies with a deployable team for each clinical candidate. Time will tell on how this model works out as drugs move through the clinic.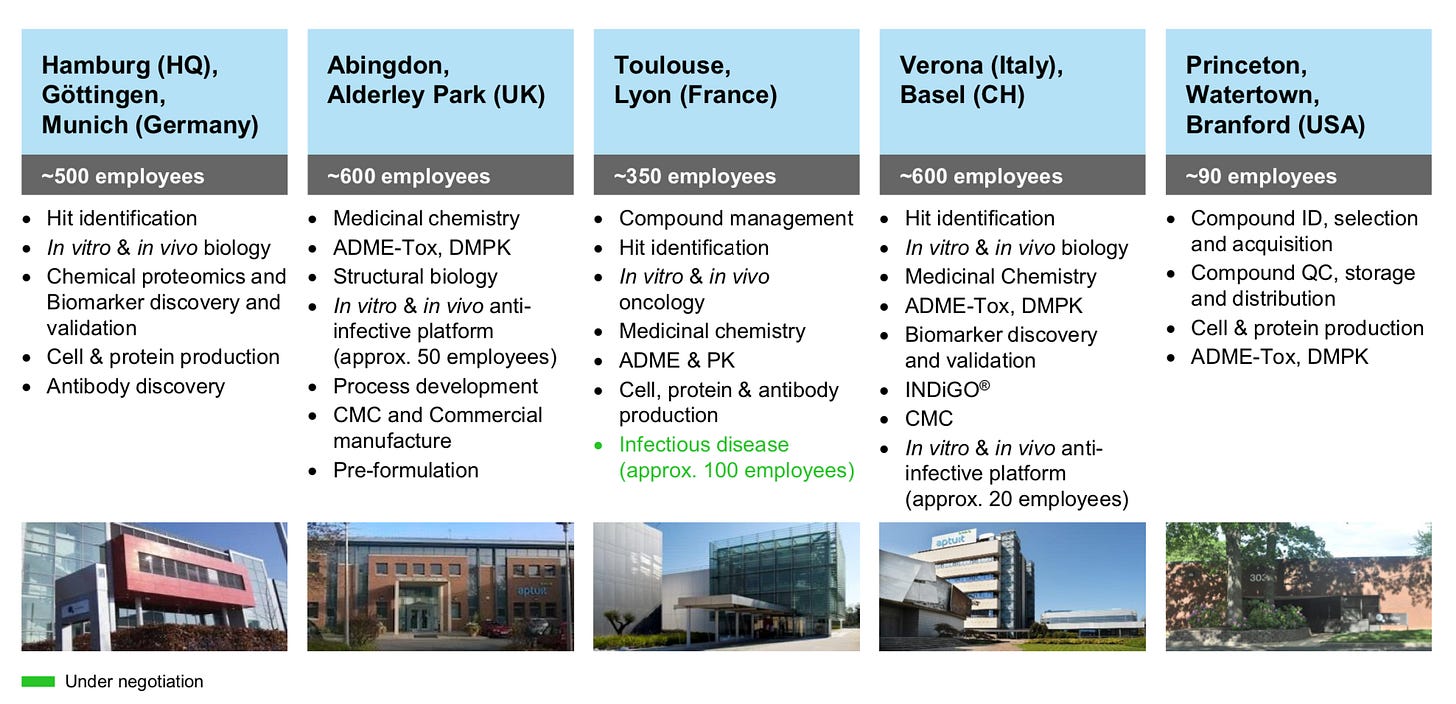 Source: Evotec
With the candidate ideally de-risked with the preclinical work, an Evotec team works to get to IND within 12 months into the clinical integrating various features:
Manufacturing

Formulation - evaluation of synthetic route/safety and scalability, analytical methods, physical form of solid (salts, polymorphism), physical & light stability

Clinical supply

Dosage - studying PK/PD relationships to define expected human dose response

Safety assessment - in vitro safety package and non-GLP in vivo safety evaluation to determine safety risks, on-target and off-target pharmacology

Drug metabolism and PK - in vitro and in vivo ADME characterization, including cross-species behavior and prediction to human PK and expected effective dose(s) in non-rodent species

IP extension

Bioanalysis studies

Dealing with the FDA and regulatory submission documents preparation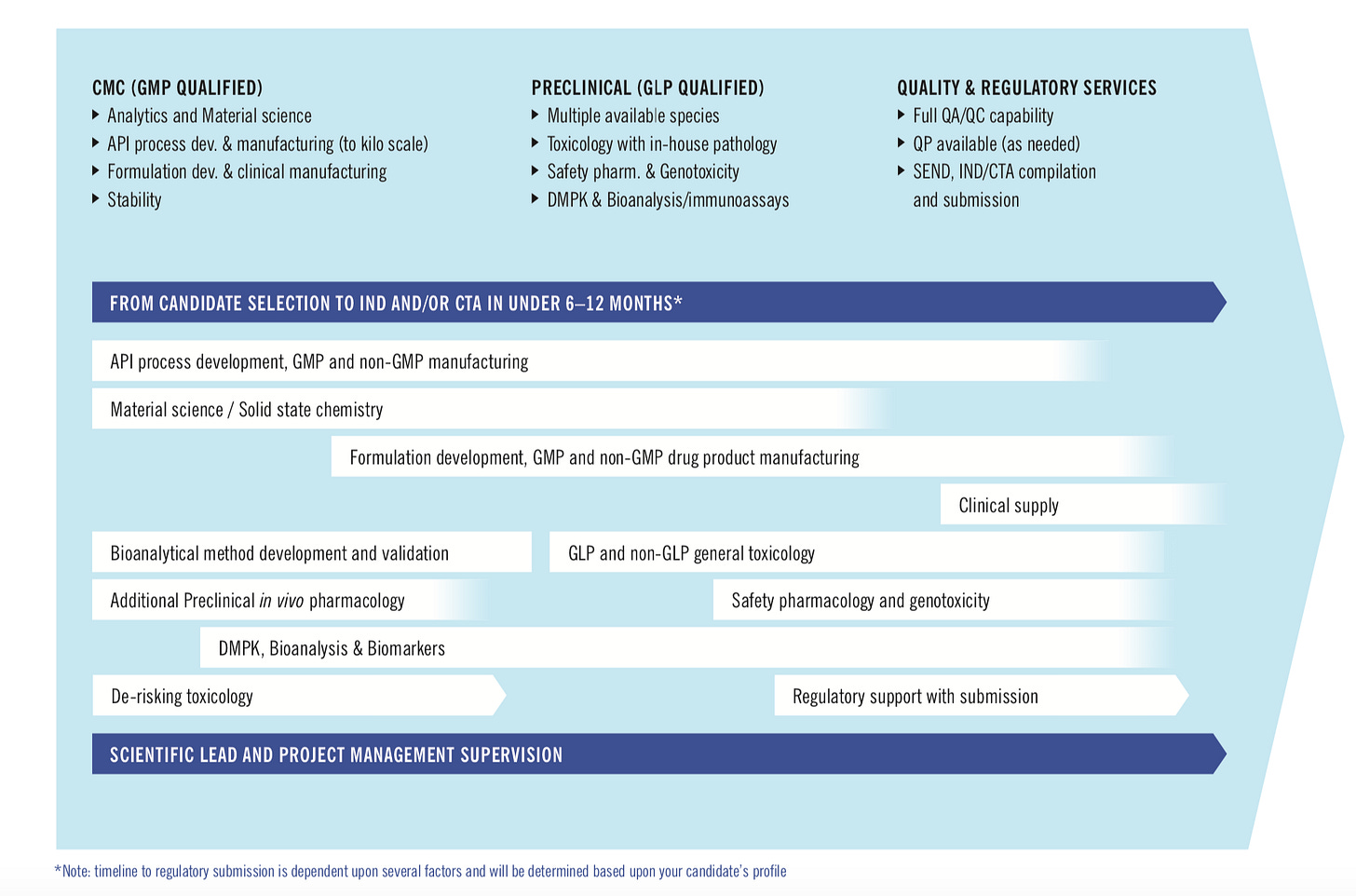 Source: Evotec
With this engine, Evotec has been taking that position that their capabilities are a best fit for neurodegeneration (ALS, Alzheimer's, Huntington's, Parkinson's) and diabetes. Moreover, the company sees an opportunity to scale up iPSC work and drug development and how regenerative medicine can impact the two main indications:
Development of iPSC-derived therapies for a broad range of neurodegenerative diseases

Development of beta cell replacement therapy for type 1 diabetes
With this current focus, Evotec is looking to translate basic research into new medicines: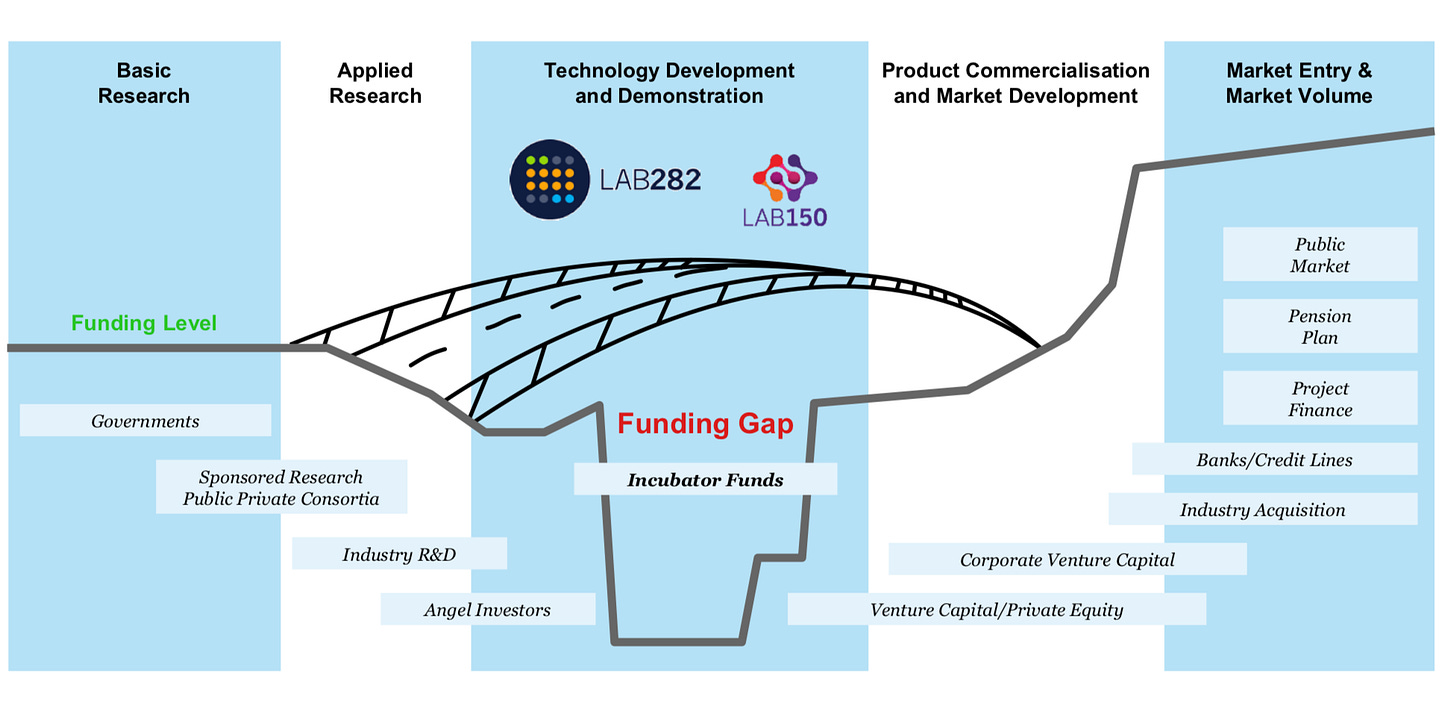 Source: Evotec
Market
The R&D services market for drug development generates well over $20B in revenue. Many of these activities especially discovery work is not interally; however, a significant portion is still done by service providers like Evotec: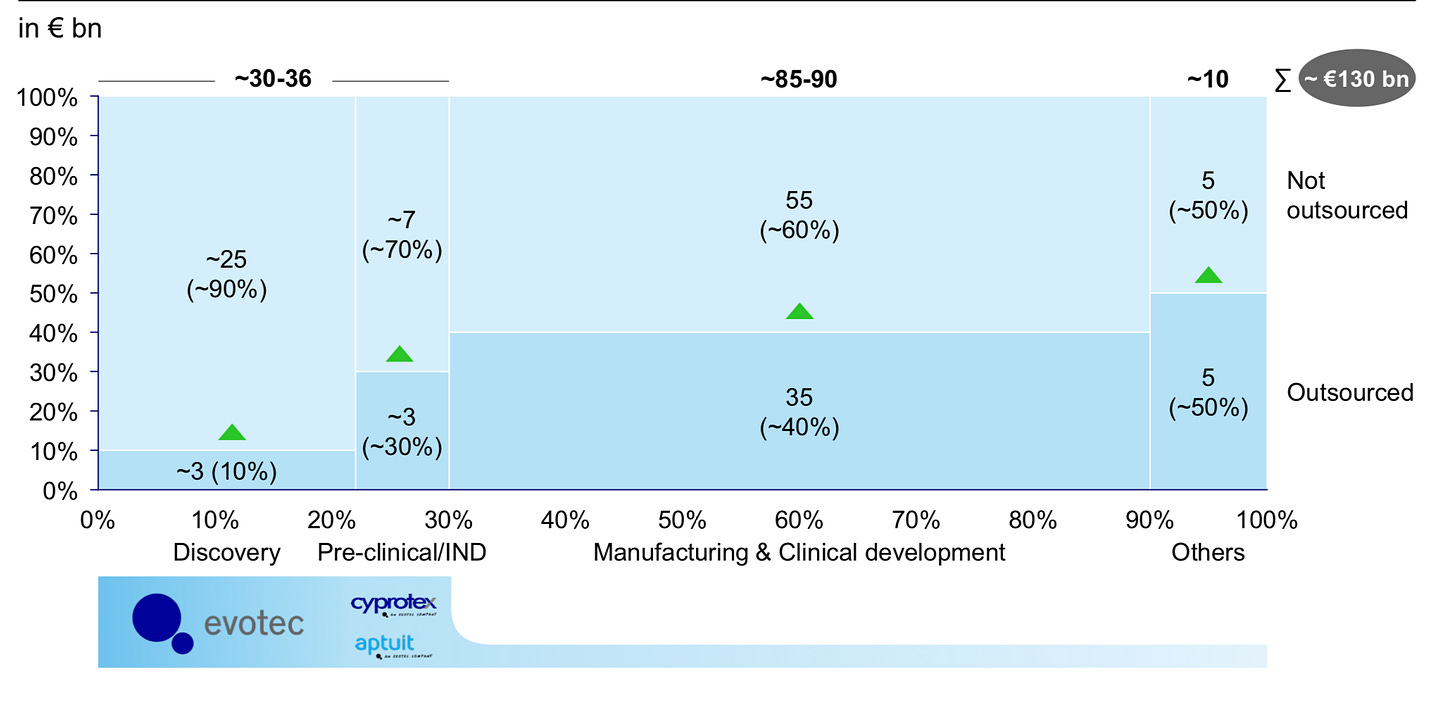 Source: Evotec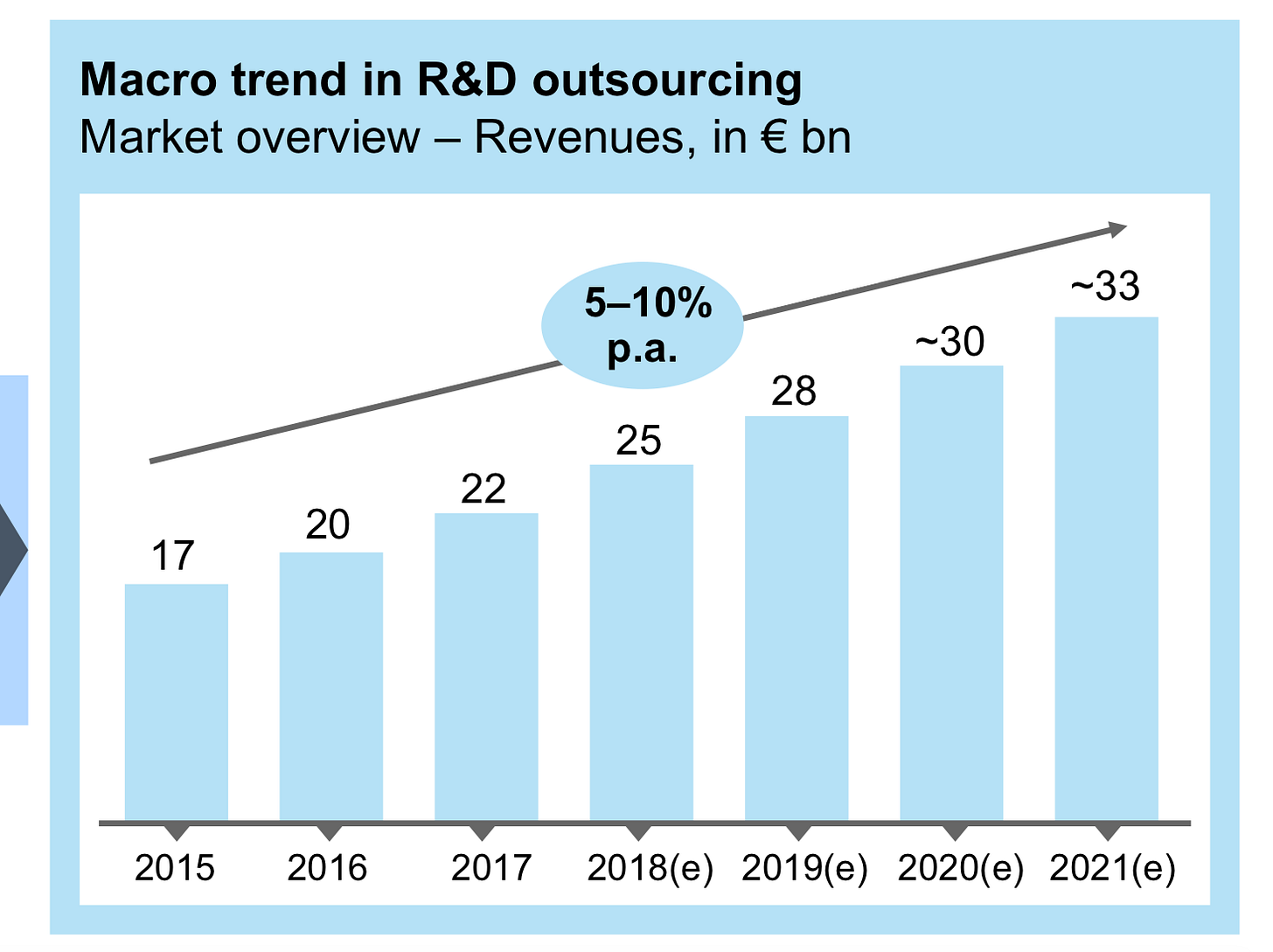 Source: Evotec
With the indications Evotec is pursuing worth collectively in the $100Bs. Over the next decade, the services market provides Evotec the breathing room to not raise dilutive financing and invest in a platform to get a cut of the drugs potentially curing these diseases: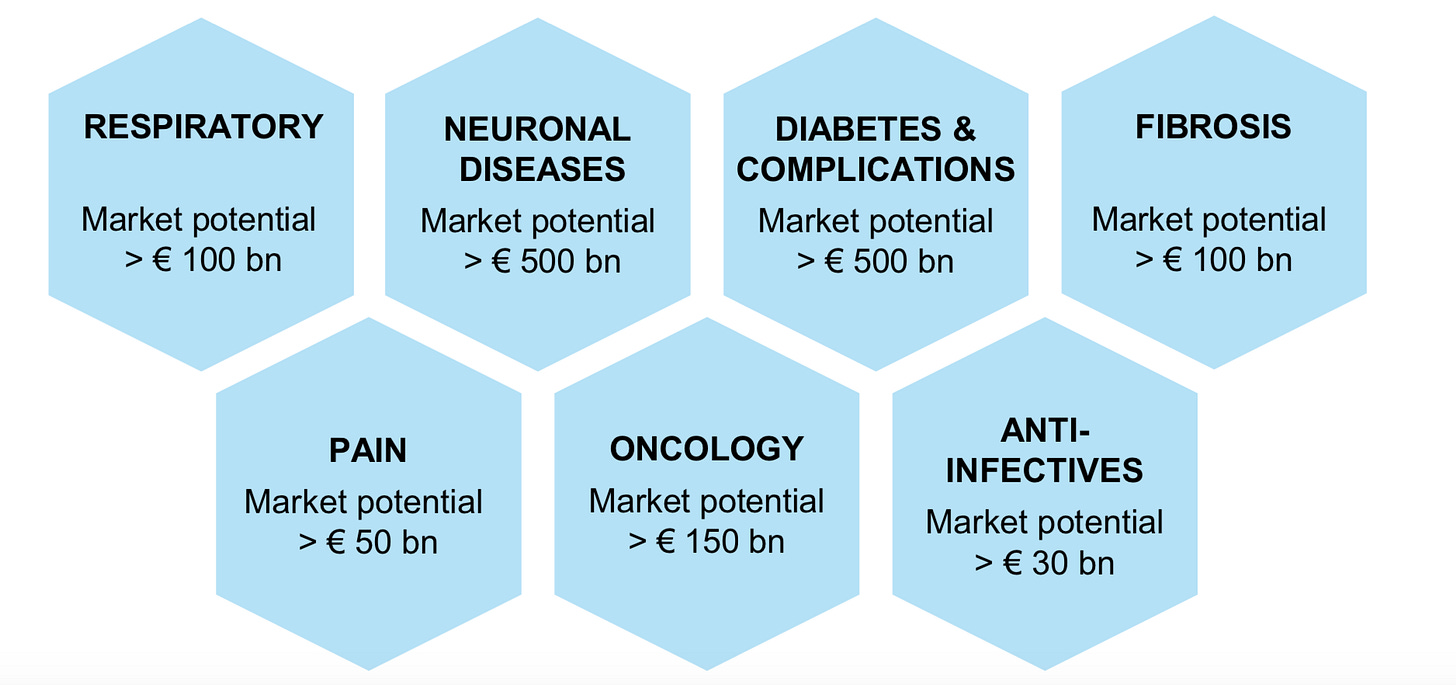 Source: Evotec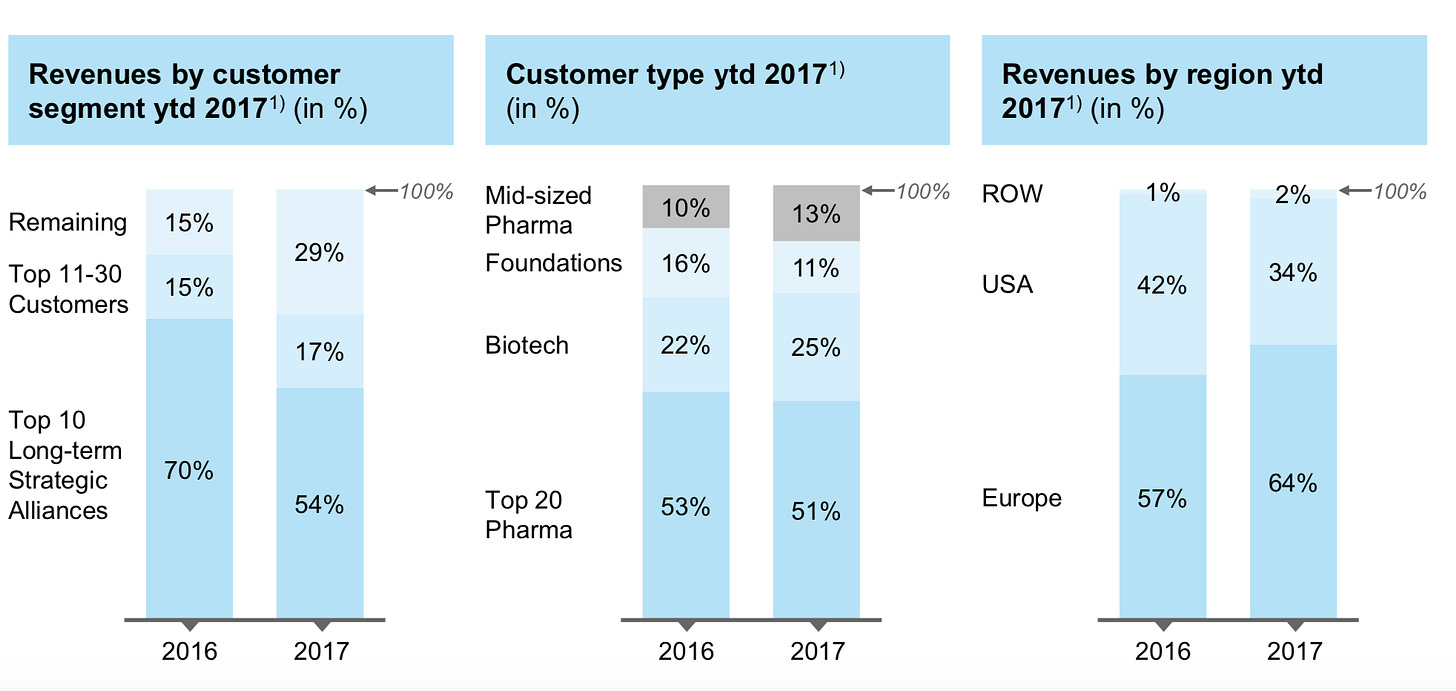 Source: Evotec
Business model
Evotec's business model is segmented into two components:
Execute - services for drug discovery and development

Innovation - bridge from academic labs to a drug
Execute
The services part of Evotec currently has over 80 co-developed drugs in the pipeline with over 2000 scientists from Evotec working on getting them approved. A partner interacts with Execute on a fee-for-service basis with Evotec also accruing research fees, milestones and royalties: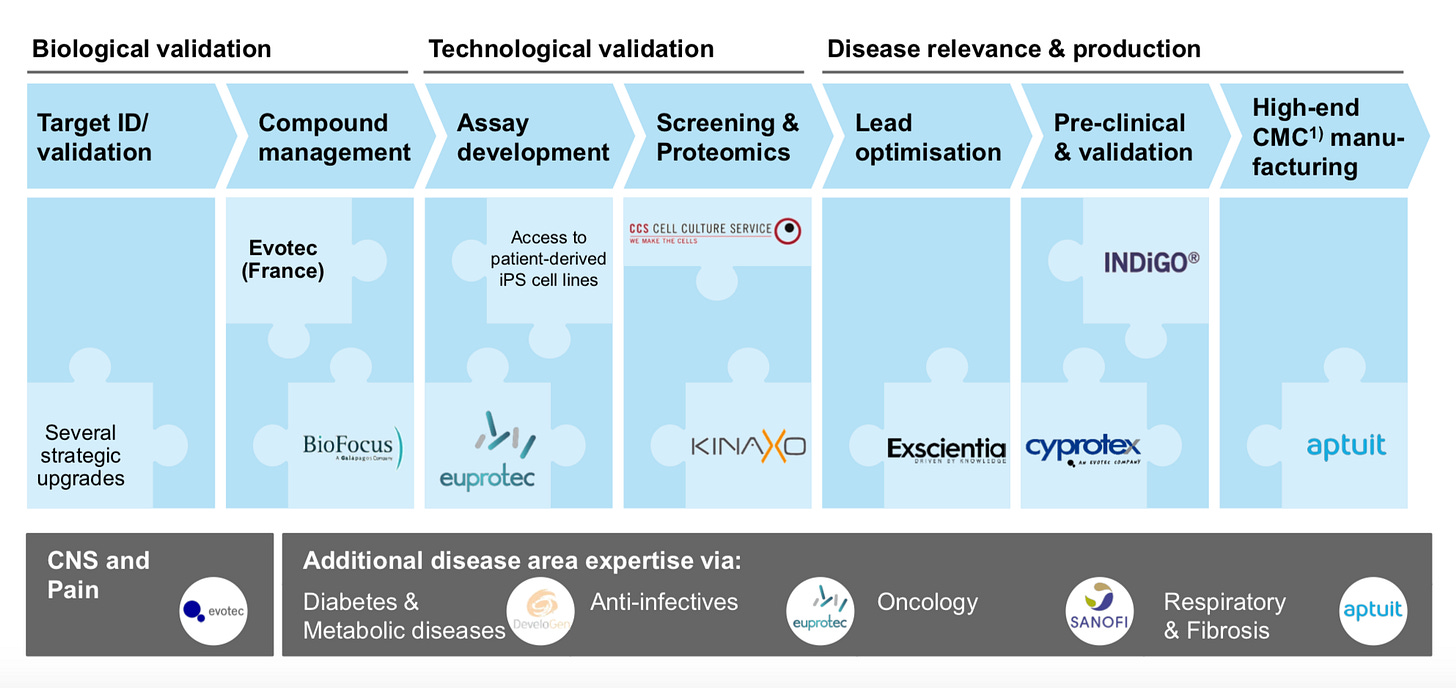 Source: Evotec

Source: Evotec

Source: Evotec
Innovation
With the services platform, Evotec is transitioning toward internal development and owning the new medicines outright. Whereas, Execute does not take developmental risks (i.e. binary outcomes), Innovation is represents a marked shift for Evotec toward financing high-risk projects.
At this time, it's a little difficult to tell if Evotec has an edge here. Have a deployable discovery and development is very valuable to others and allow Evotec to not have to finance costly trials. However, this capability doesn't obviously endow an edge in picking candidates and pursuing them. Overtime, Evotec may be able to integrate the learnings from its ~80 partnerships and apply them to their own, but that remains to be seen.
So the Innovation component focused on internal R&D projects and spin-outs from academic labs or other biotechnology companies. Currently, Evotec has relationships with around 20 academic institutions and has made one spin-off - Topas Therapeutics.
With this model, Evotec has been able to build up a stable of partnerships from discovery to phase II (image below):
Bayer - chronic kidney disease (CKD) - therapeutics for diabetic complications with an undisclosed upfront payment and potential milestones over €300M and double-digit royalties
Bayer - endometriosis/pain- non-hormonal treatments in endometriosis with €12M upfront and potential milestones over €500M and double-digit royalties
Sanofi - immuno-oncology - small molecule-based cancer immunotherapies to complement checkpoint inhibitors with research payments and potential milestones over €200M and double-digit royalties
Pfizer - fibrosis - drugs for multi-organ fibrosis with an undisclosed upfront payment and potential milestones over €100M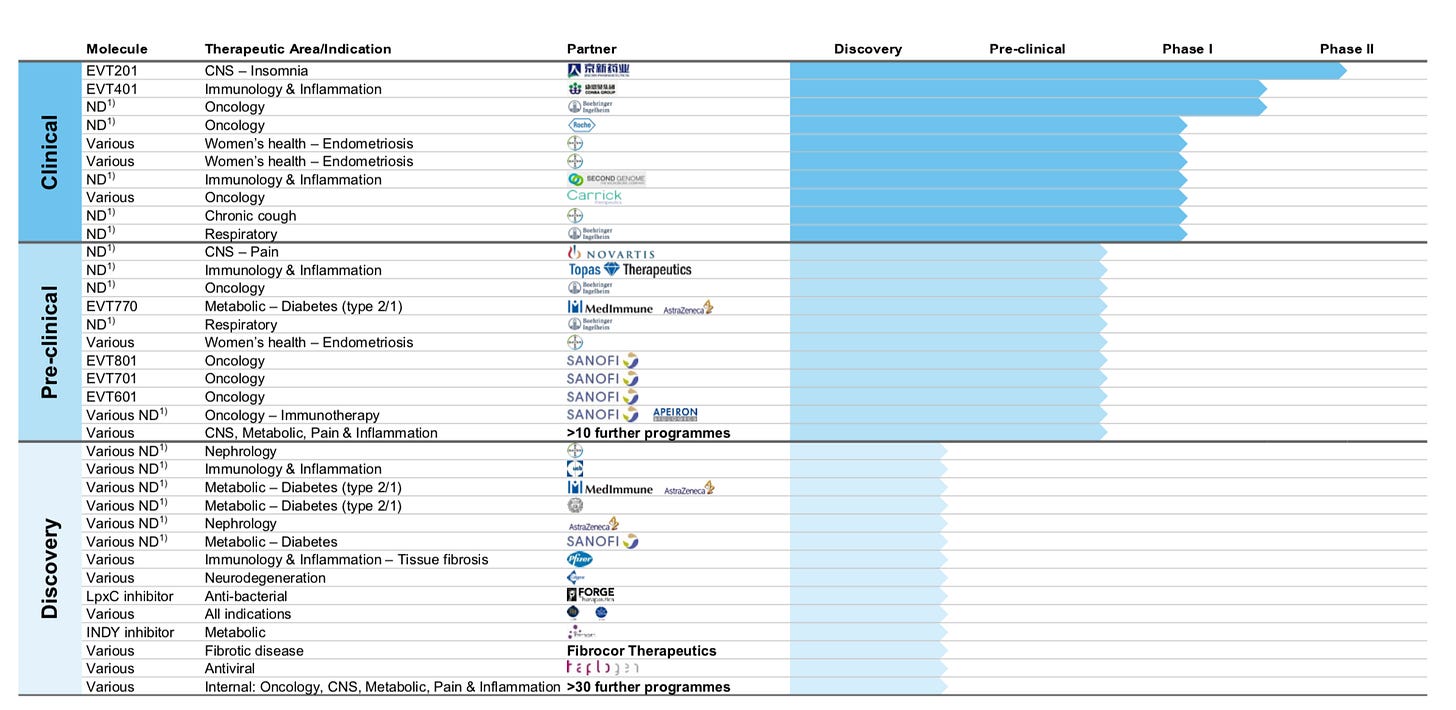 Source: Evotec